Shipping Intermodal Freight Doesn't Have To Be Complicated
Need a Freight Bill Analysis?
Ready for a Logistics Opportunity Assessment?
Need Big Company Solutions?  Talk to an Expert.
Shipping Intermodal Freight Doesn't Have To Be Complicated.
What is intermodal freight transportation?
Intermodal freight transportation is a combination of different transportation modes, like rail, ocean, and trucking, to move goods from the shipper to the final destination point. The freight is moved in a container or vehicle without handling the freight when changing modes. Shippers usually use intermodal transportation to move freight over long distances of more than 500 miles. Also, intermodal transportation is best suited for intermediate and finished goods with the net weight under 42,500 lbs.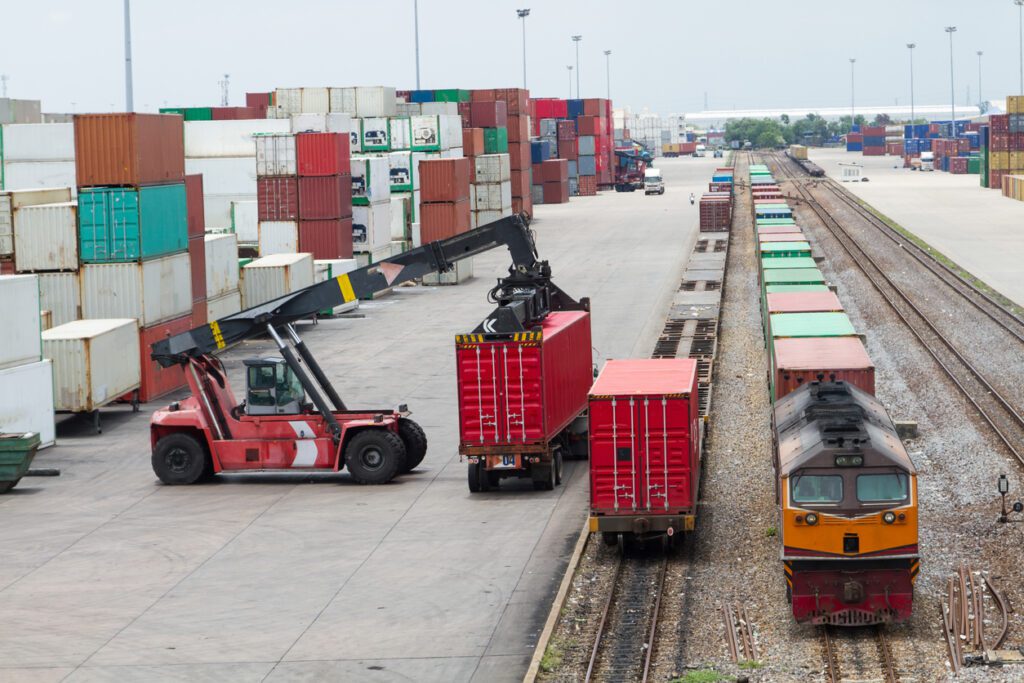 How does intermodal transportation work?
Intermodal freight transportation implies moving cargo long-distance using two or more shipping modes. When using intermodal, every stage of transportation is arranged and signed with a different carrier, which means several bills. Shippers usually use intermodal to save costs, or when there is a need to ship freight across an ocean. The container is being loaded and transported through rail or barge, then loaded onto the truck that transports it to the final destination. There are also short-distance, last-mile shipments called drayage shipments. This is the final transportation of a container from a loading dock or from the port to the ultimate destination.
‍
What is the difference between intermodal and multimodal transportation?
The main difference between intermodal and multimodal freight transportation is billing. In simple words, intermodal is when you combine several carriers under separate bills of lading, while in multimodal, the transportation is either handled by a single carrier, or several carriers are signed under the single bill of lading.
What are the benefits of intermodal transportation?
‍
COST EFFECTIVE
Intermodal transportation offers lower rates, predictable pricing, and flexibility. The longer the haul, the more likely you'll be to find cost savings through intermodal. Freight moving 500+ miles, or anything longer than a day on over the road, could be a strong candidate. If the origin and destination cities are close to major metros, chances are that they are also close to rail ramps and/or ports. This drives intermodal costs down.
TIME SAVINGS
Is your freight time-sensitive? Typical intermodal transit is truckload transit, plus a day when the lane is within one railroad's network. If the overall move requires shipment to interchange between multiple railroads, this can increase by another day or two. Longer delays due to track or ramp congestion, weather, track conditions are quite common.
OPTIMIZE DRIVER CAPACITY
The driver shortage has caused a crunch in capacity, specifically for long-distance road hauls. Also, intermodal utilizes the rail and local drayage carriers to complete long-haul moves reducing the dependence on over-the-road drivers. Intermodal transportation is a smart selection when cargo flow must be regular/recurring and in similar quantities. If your shipper sends out several of the same LTL shipment each month, it may be worth comparing costs and service levels to that of intermodal.
Why use intermodal?
Intermodal freight shipping can be a very beneficial way to ship freight over long distances in terms of cost savings. Shippers who regularly send the similar amounts of LTL shipments for more than 500 miles are the ones who will grasp the most benefits of intermodal freight. Also, intermodal implies more accountability and responsibility of carriers, since there is a separate bill of lading for every part of the shipping process.
‍
ENVIRONMENTALLY FRIENDLY
Shippers can significantly reduce their carbon footprint by switching to intermodal shipping. Moving one ton of freight one mile via rail can reduce CO2 emissions by 83%.
DEPENDABILITY AND SAFETY
Intermodal shipping gives you access to more equipment and standardized transit schedules. Intermodal transportation tends to be safer and more secure for the cargo. There is no touch from the driver and container doors remain secured and out of reach during transit. Also, other than being on a fixed track, there are specific blocking and bracing requirements that ensure the product can't shift in transit if followed correctly.
Intermodal transportation with PLS Logistics
‍
Get a Free Freight Quote  |  Save on transportation costs with the perks of PLS.
‍
‍
We can provide any type of intermodal freight transportation regardless of the complexity. Dry, refrigerated/frozen, hazardous, tanker endorsed, high value, or specialized in any way, we have a large network of highly experienced IMC's to service it all.