Rail Freight and Logistics
Dependable Capacity, Competitive Rates, Strategic Solutions
Need a Freight Bill Analysis?
Ready for a Logistics Opportunity Assessment?
Need Big Company Solutions?  Talk to an Expert.
End to end rail logistics and rail freight transport solutions, providing you with a dependable and consistent way to move even the most complex freight.
What is rail logistics?
When your shipping needs include more than 120,000 pounds of material shipped at the same time to the same place, railcar shipping might be an option for you. Since railcar transportation is often cheaper and more eco-friendly than over-the-road (OTR) shipping, it is worth considering this mode.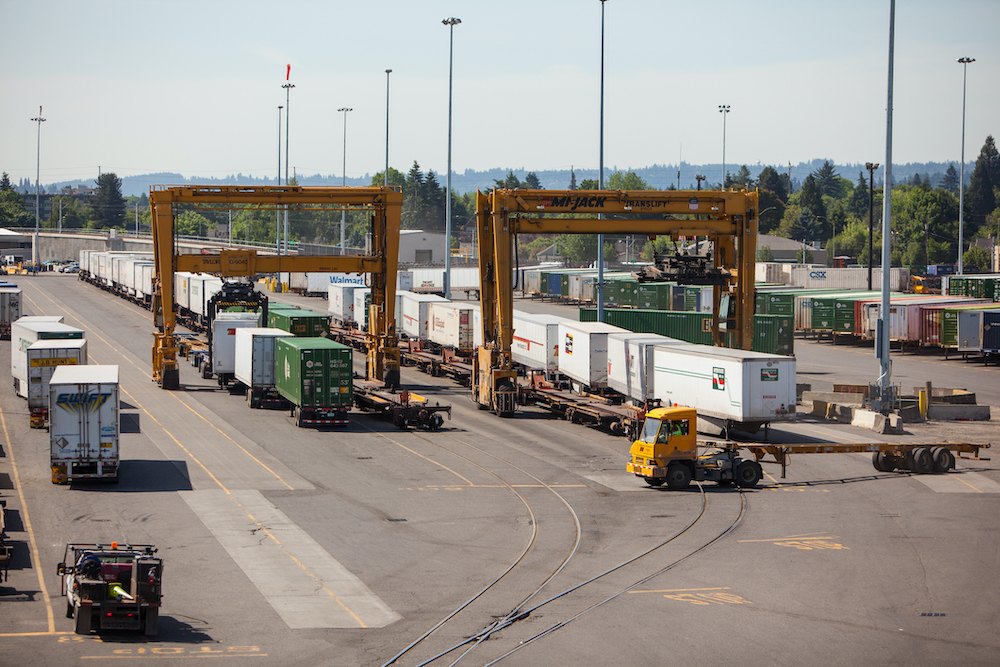 Who can ship by railcar?
Since railcars only travel on the steel tracks laid by the railroad, frequent railcar shippers and receivers have had tracks built into their facilities. If that sounds like you, you are a step ahead to shipping by railcar.
If you do not currently have railroad tracks built into your facilities, don't worry. It can be economical to truck cargo to a nearby transloading facility where your product would be unloaded from the trucks and loaded into the railcars. This adds costs, time and handling, but there are times where the savings in freight costs over truck are great enough that they off-set the transloading expense.
Rail logistics shipping rates
Railcar freight rates tend to be lower than truck rates. Due to the large volume of goods being moved, the price per railcar looks high, but since it replaces 3 – 4 trucks, the effective rate is low. Your rail quote will depend on the size and dimensions of the shipment, commodity, railcar type, route, and lane.
What are the advantages of rail freight logistics?
Rail is a great solution for pre-planned long-hauls, and moving from OTR to rail could benefit your supply chain in several ways. Guaranteed capacity, gas emissions, and the aging generation of drivers are the main issues many logistics professionals face. Using rail transportation for your freight can help solve some of these problems.
Safety
According to the Association of American Railroads, more investments in rail infrastructure are increasing the safety and efficiency of rail transportation. Rail offers a higher safety level because of less human involvement and the absence of highway congestion.
Technology
New technology innovations in rail transportation are at the peak of development. Automation, modern railway systems, big data, IoT and artificial intelligence are all new tools impacting rail transportation. For example, the automated system PTC is already used by 83.2% of the required Class I route miles nationwide.
Greener transportation
The most obvious advantage of rail transport over trucking is being less harmful to the environment. The rail can handle a much higher volume of freight and longer distances compared to other transportation methods. In general, railcar shipments cause fewer carbon emissions into the environment per ton-mile.
Fuel savings
Although the transit time will be longer, shipping via railcar can be cheaper than OTR. The rail can help reduce costs, especially on your long-hauls and cross-country runs. A good part of this savings is due to less fuel being used per ton-mile of cargo being hauled.
Freight visibility
Rail companies offer much more sophisticated and advanced technology for tracking than most motor carriers. Railcars are automatically tracked throughout their movements and these sightings are published by the railroads for the use of the parties involved in the shipment.
How can PLS help you with railcar shipments?
‍
Get a Free Freight Quote |  Save on transportation costs with the perks of PLS.
‍
‍
Over the course of their history, railroads have been on the cutting edge of technological innovation. Essentially, such a developed and complex system involves its own communication network. Learning and unraveling all the processes within the industry can be a hurdle for a shipper.