Shippers who work to reevaluate their current shipping strategy should pay attention to intermodal transportation. More and more companies switch to this solution since it lets them reduce the time and costs used on transportation. Despite the fact that intermodal involves several transportation modes, it can actually bring more efficiency than a single OTR shipping.
What is intermodal transportation?
Intermodal is a combination of two or more transportation modes. It suggests moving freight without any handling during changing modes. On each stage of shipping, a different carrier manages your load.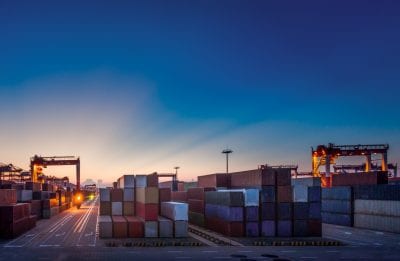 What are the benefits of intermodal transportation?
With all the modern problems of trucking, like tight capacity, gas prices, gas emissions and the driver shortage, finding capacity can be complicated. Eventually, many shippers are seeking ways to reduce their transportation costs and move freight more efficiently. It turns out that intermodal shipping can be a great solution for those needs.
Shippers use intermodal transportation for a variety of reasons:
Reduced transportation costs. Intermodal combines different shipping modes. Some of them, like rail, can eliminate the overall shipping price. Additionally, it lets you save on fuel. Intermodal shipping also means your freight is moved in containers, which do not require individual handling and cuts manual labor costs.
Reliability and safety. In terms of capacity, you can always rely on intermodal. Unlike the OTR mode, rail and other modes give you guaranteed capacity and resources. Shipping with rail is more convenient and secure than trucking because the freight goes through a solid route with fewer stops. Additionally, containers and no handling ensure shipment safety. The train is less likely to cause accidents and can avoid highway congestion.
Eco-friendly. Being environmentally conscious is the new thing in the shipping industry. In fact, trucking is a major contributor to overall air pollution: 28 percent of all GHG emissions are caused by heavy-duty trucks. Using alternative transportation modes can drastically lower your carbon footprint. Additionally, more customers become interested in your social mission. Going green can help reduce costs, help the planet, and raise your brand awareness.
Eventually, intermodal shipping can offer companies many considerable advantages. However, it won't be the best solution for every company and lane. You should choose the shipping strategy depending on your freight type. mileage, cargo volume, and many other factors.
When should you use intermodal transportation?
Long-distance shipments
Intermodal can be a perfect fit for shippers who move loads to more than 750 miles. Long lanes require high fuel consumption, but rail can resolve this challenge. If the truck has to move your load for more than one day, you'll most likely benefit from mode combination.
Low and medium value shipments
If you send high-value goods, it's better to consider the direct and faster method of transportation like air freight. Otherwise, intermodal works for medium value shipments.
Regular shipping of similar products
A combination of modes would benefit you if you regularly send freight in similar quantities. For example, multiple LTL shipments on a constant basis.
Final thoughts
Ultimately, intermodal is a reliable and affordable shipping method that lets you save transportation costs and decrease your company's carbon footprint. It would surely benefit your long-distance loads and will add value to your supply chain.
For more information please visit our Intermodal transportation page or submit your information to receive a free quote today!
‍