The number of online shoppers is estimated to reach 270 million by 2020. In 2015, online sales totaled $335 billion, and a recent report from Forrester predicts that online sales will grow by an average annual rate of 9.32% over the next 5 years.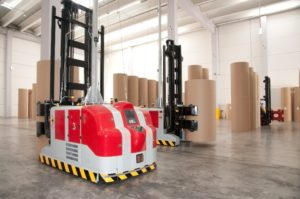 Demanding e-commerce shoppers are challenging the way businesses approach fulfillment. Among the many different solutions employed across a number of industries, automation in the supply chain has been the most successful.
Automation in the Warehouse
Automation in the supply chain helps increase speed, accuracy, and productivity. Today's warehouses are no exception – they are hi-tech and extremely efficient, using automation to rapidly fulfill orders.
"To be great in e-commerce, you need to be sophisticated inside the warehouse," said Karl Siebrecht of Flexe. Robotic installations in the US were up 11% in 2014 over the previous year.
Amazon's use of robotics proves that automation is more proficient than an all-human staff. Amazon, an e-commerce leader, has about 30,000 robots in its warehouses all over the globe, which created an estimated 20% reduction in operating costs.
Robots benefit e-fulfillment centers and DCs by:
Loading and unloading
Picking shelves, putting away returned products
Handling heavy material
Moving products to workstations
Packing products
Automation in Transportation
According to Henry Maier, of FedEx Ground, e-commerce is the greatest driver of change and growth in the transportation industry.
E-commerce has considerably shortened truckload's length of hauls, as shippers build centralized DCs and warehouses for e-fulfillment to be closer to customers for faster delivery.
"Length of haul has gone down a great deal, and one of the unintended consequences of that has been miles-per-truck are down," said Derek Leathers of Werner Enterprises. He continued, "From 2007 to today, total trucks and capacity are down between 12-15% and miles are down nearly 25%."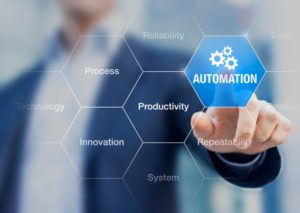 Businesses are under pressure to reduce costs and send orders to customers faster. Since e-commerce sales are unpredictable, flexibility and scalability in transportation strategy are vital. Transportation management systems (TMS) provide shippers with visibility, freight bill consolidation, and carrier selection.
Having multiple carrier options permits you to choose the best rates and transit time, which means containing costs and better service.
Since your customers aren't willing to pay for shipping, but still want their goods as soon as possible, it's worth evaluating your different choices through a technology platform like a TMS. As order sizes vary, you might consider an LTL carrier. When the customer selects a later shipment delivery, you could choose a carrier with a lower rate but slower route. Regardless of your needs, having more carriers to choose from provides you with more competitive rates.
Benefits of using a TMS: You can automate manual processes, like your BOL. You won't have delays when your preferred carrier is unavailable, you can simply select a different carrier. You can evaluate various freight rates on the same shipment from multiple carriers. You can track your shipment from origin to destination, you can optimize modes and routes. You can give customers real-time information and improve their experience. You can easily manage historic data and instant notifications. And, you can fully adjust your transportation strategy to fit your e-commerce needs.
Related PLS Logistics Posts:
‍