Transportation rates are near their lowest point and are expected to rise later this year. New forecasts predict rising contract and spot market rates caused by numerous economic and regulatory factors – which will create tough conditions for shippers to negotiate rates. Shippers who don't lock down rates now could miss out on a great opportunity.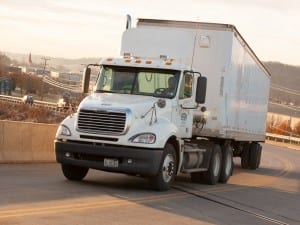 Pricing Conditions are Great for Shippers – For Now
Larry Gross, a partner at freight transportation consultancy FTR, says, "We are now experiencing the first sustained period of favorable shipping conditions since 2009."
Right now, and the next couple of months, are the best time for shippers to lock in low transportation rates. FTR's latest Shippers Conditions Index (SCI) reveals just how good things are for shippers today. The most recent score, 4.7, released in February, shows a favorable environment.  When the SCI reports negative numbers, it represents an unfavorable environment. The index reported a 4.3 in January, which was up from 3.0 in December, -0.6 in November, and -3.1 in October.
Gross, after acknowledging the favorable pricing environment, admits that FTR expects a slow degradation of conditions for shippers in 2016 that will gain momentum in 2017. Regulations, the price of oil and economic uncertainty are the driving factors behind price increases.
The Reasons for Rate Increases
Regulations
The HOS regulation and ELD mandate will greatly affect the trucking industry. As usual, the state of the Hours of Service (HOS) regulation is up in the air. Several studies are being conducted and it could be reinstated at any time. HOS rules would considerably impact carriers' efficiency and operating costs. The ELD mandate has the potential to eliminate a large portion of available truck capacity in the industry. Smaller carriers and owner-operators will be burdened by the financial investment and adjustment period of ELD implementation and many are expected to exit the industry.
Oil Prices
The price of oil, and subsequently diesel, is nearly impossible to predict. Currently, prices are extremely low. This is not sustainable for a long stretch of time and can be harmful to the transportation industry. Historically, the longer the price of oil stays low, the more dramatic and lengthened the rebound in prices will be. The oil and gas supply chain is so complex that nobody can say for sure when prices will rebind, but most economists agree it will happen within three years. When the price of diesel skyrockets, carriers' operating costs will also skyrocket.
The Economy
The unusual state of the economy plays a role in projected rate raises, too. Low gas prices are good for consumers but are a symptom of broader industrial level suffering. Loose capacity is great for shippers but caused by generally cautious consumers. This high degree of uncertainty has caused many shippers to start securing long-term contract rates in the past few months – slowly locking up future available capacity. When carriers feel safe with their level of guaranteed capacity, they will start to raise rates, and shippers will compete for what's left.
At best, transportation rates will be neutral in 2016 and slightly negative through most of 2017. At worst, they could increase to 2008 levels if diesel prices rise, capacity dwindles and regulations cripple efficiency. Either way, it's safe to say that right now is the best time to lock in contract rates for transportation before it's too late.
Learn more about Oil and Gas shipping services!
Read more:
Request Free Logistics Opportunity Assessment
‍