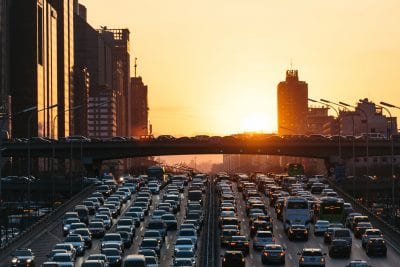 The life of a truck driver can be stressful in many ways. Spending long hours on the road, the need for constant concentration, and the responsibility for freight security and on-time delivery. Additionally, apart from all of these unpleasant elements of a trucker's day, there is a lot of wasted time and frustration because of highway congestion.
How much does highway congestion cost?
The Department of Transportation (DOT) estimates losses of the trucking industry caused by highway congestion at $63 billion annually, and 13,500 miles of the current system are consistently slowed down below posted speed limits.
In the American Transportation Research Institute (ATRI) survey in 2018, the top-three most congested lanes were Atlanta's Interstates 285 and 85 North, New Jersey's I-95 at SR 4 and Chicago's I-290 at I-90/I-94. In 2014, highway congestion loss in Chicago alone has reached $1.5 billion, as the city contains 25% of the most congested highways in the U.S.
What is the negative impact of road congestion?
It is a global issue that results in huge money loss, fuel waste, hundreds of failed delivery deadlines and tons of unbearable stress.
Adds operational cost
It's impossible to precisely forecast shipping deadlines
Delivery delays that lead to customer dissatisfaction and higher product prices
Extra costs for wasted fuel and driver hours
Stress for drivers, logistics managers, and shippers
All of these interrelated factors create evidence of how road congestion affects not only the freight transportation industry but also the global economy.
How to reduce highway congestion?
Road congestion is a big headache in the trucking sector. So, industry experts try to find efficient solutions to reduce the impact of the problem. Here are the most relevant options to unload American highways:
Better route planning
Utilize near-shoring as a strategy to reduce the time spent on transportation
Cross-docking and centralized warehousing
Investing in the infrastructure
Better utilization and development of different transportation modes, such as rail
Ultimately, road congestion can be resolved on a global level only with a governmental investment in the infrastructure. However, you can reform your logistics strategy and plan routes more efficiently to mitigate the impact of highway congestion.
‍