Consumer packaged goods (CPG) are a large part of the retail industry. These products support our daily lives, and proper transportation strategy is crucial for CPG companies to have goods delivered on-time. Shippers struggle with numerous challenges to meet the retailers' compliances and often suffer supply chain disruptions. It is critical to have a properly planned CPG shipping strategy.
What are consumer packaged goods (CPG)?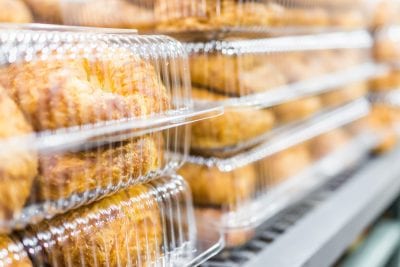 CPG stands for consumer packaged goods and means a large group of short shelf-life products like food, beverages, and household goods. These products usually require regular restoring and are widely used by the majority of people. Obviously, the goods are wrapped in the bright and branded packaging to be recognized from a wide variety of market offers. CPG is a $2 trillion worth sector of the U.S. economy.
Building the CPG Shipping Strategy
Due to the extremely diverse and saturated market, the consumer packaged goods industry constantly struggles with many issues. The most common challenges include tight capacity, strict compliance rules, deadlines, and rising operational costs. It can become complicated for CPG companies to secure some freight capacity in advance to meet the high demand. The inability to supply the needed products to the retailers on-demand can result in harsh penalties and money losses. The constantly growing market of companies requires shippers to invent and imply new solutions in order to stay in the race.
According to the Boston Consulting Group, nearly 80 percent of CPG supply chain executives state transportation as their biggest trouble. That's why outlining the proper logistics strategy for your CPG supply chain is crucial.
Consumer Packaged Goods Trends
The latest trends in consumer habits establish shifts in the CPG market. Essentially, this will have a substantial impact on CPG shipping and transportation. Here are a few key trends experts estimate to change the industry in 2020 and beyond:
Multi-channel selling and distribution
Rapid digitalization of the CPG industry
The shift towards personalized experiences
Multi-channel presence and moving to online stores will unload the business of the sector and will let shippers better plan their inventories. However, the problem of capacity and quality service will remain an open issue. Proper organization and collaborative efforts will help companies reach a competitive advantage.
CPG Shipping with PLS Logistics
Learn more about our CPG logistics services!
FacebookTwitterShare
‍