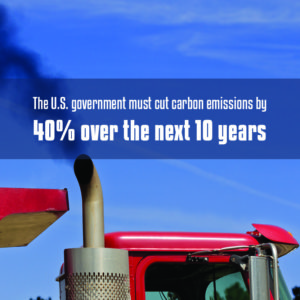 Over-the-road (OTR) freight carriers face pressure from shippers and customers who want impeccable service, and the government who wants advances on environmental performance. In March, President Obama made an executive order that mandates the U.S. government to cut carbon emissions by 40 percent over the next decade, setting an example for industries across the country.
This is just one of a number of crackdowns on carbon emissions the Obama administration has made. EPA Administrator, Gina McCarthy, has even gone as far as to say that cutting carbon emissions is so important that the government can't wait for 'green' technological advancements.
There are plenty of ways to reduce carbon emissions, but many of them include using new fuels, making alterations to trucks or getting new trucks altogether. So, as a carrier, how do you reduce environmental impact without making large capital investments?
6 ways carriers can reduce environmental impact now:
Driver Training: All drivers should complete training aimed at increasing fuel economy, which could save $1,200 in fuel costs and cut eight tons of CO2 annually. This training typically includes progressive shifting, engine speed optimization, idle reduction, smoother braking and acceleration, and anticipatory driving. Some carriers report fuel economy gains of up to 20%.
Low Viscosity Lubricants: Synthetic engine and drive train lubricants can improve fuel economy by 3%, which can save 500 gallons of fuel and cut up to five tons of CO2 emissions annually. Low-viscosity synthetic lubricants can withstand extreme conditions in the engine and can provide additional savings through reduced wear and maintenance of truck systems.
Idle Reduction: An idling truck burns nearly one gallon of fuel per hour. Reducing idle-time could save over $3,000 in fuel costs for each truck, not to mention a reduction in air pollution of 19 metric tons of CO2 annually. This is something the driver must take responsibility for. Some truck stops now have sources of electric and internet for truckers to reduce idle time.
Reduce Highway Speed: Reducing truck speed on the highway can lead to significant fuel savings and eliminate several tons of CO2 emissions. A truck with 90 percent highway miles  that reduces its top speed from 70 to 65 miles per hour could cut its annual fuel bill nearly $1,500 while eliminating almost 10 tons of CO2. This can be done through speed limiters or through driver training. Slower highway travel also reduces engine and brake wear, which cuts down the cost and frequency of maintenance service and keeps trucks on the road longer.
Intermodal: Over long distances, using intermodal transport can cut fuel use and carbon dioxide emissions by up to 65%, compared to truck-only moves. Carriers benefit from using trains to take cargo long-distances, especially if that cargo is not time-sensitive, by taking more frequent loads shorter distances; sometimes a truck could take a shipment to an intermodal yard several times in the amount of time it would take to haul that freight across the country.
Improved Freight Logistics: Proper logistics can reduce things like empty return trip miles. Eliminating just 15% of a truck's empty miles could save $3,000 in fuel and reduce 24 tons of CO2 annually. Improved freight logistics also includes proper load matching, more efficient route and mode selection and better loading/unloading practices.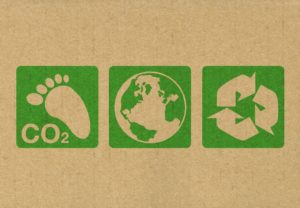 There's a lot of pressure on carriers to keep up service levels while reducing environmental impact. By following these 6 practices, you can improve environmental performance without disrupting service or buying new vehicles.
As a carrier, how do you lower emissions?  Let us know in the comments below.
Continue Reading: The EPAs Green Transportation Initiative to learn how SmartWay Transport Partners have reduced their carbon footprint.
Source: https://www.plslogistics.com/wp-content/uploads/2015/07/carrier-strategies.pdf
‍