Retailers and their suppliers face difficult challenges in today's economy. Consumers are more demanding than ever, and mistakes are more damaging than ever. Transportation is a key component in providing superior service levels and satisfying customers, but retailers and suppliers are often unable to effectively collaborate on transportation.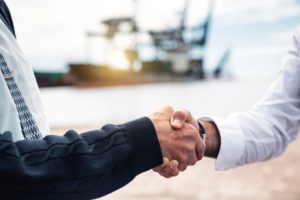 A recent study proves the value of a supplier-retailer collaboration: collaborative companies receive a 3.7% increase in revenue compared to those businesses who don't work together. And, there's a 5.4% decrease in costs on all initiatives that involve collaboration.
The benefits of supplier-retail collaboration are clear, so why is this type of partnership not more common? Here, we explain 4 major obstacles retailers and suppliers face before achieving effective collaboration:
Trust. A fundamental obstacle to collaboration is the lack of trust between organizations. On one hand, a lack of transparency causes distrust, since neither can tell if they are getting the best deal for their services. On the other hand, neither organization trusts the other with the sensitive data needed to create transparency because they fear it will be shared with other suppliers or retailers. When retailers and suppliers begin to trust each other with internal data and price transparency, true collaboration can begin.
Inbound Transportation Management. Understandably, retailers are focused on keeping shelves stocked and maintaining inventory. Suppliers pick up the tab when retailers don't consolidate orders. Retailers would see better inventory management and freight moves if they took more time to manage incoming freight. Then, retailers and suppliers could collaborate to find even further cost reductions.
Communication. Products move fast in the retail sector and there is very little room for error – which means surprises in freight movement and costs are the last thing a retailer needs. Potential disruptions, surprise fees and inventory strategy must be communicated for proper transportation collaboration. When retailers and suppliers communicate often and honestly, collaboration is more effective and will reduce costs.
Omni-Channel. The omni-channel retail environment can cause chaos in the supply chain. Retailers struggle with inventory management and providing services such as 'buy online-pick up in store', while suppliers are being tasked with sending multiple partial shipments to several DCs for many different buyers. The omni-channel makes logistics processes a nightmare, so some retailers are turning to 3PLs to manage the transport of goods. These 3PLs, in turn, are looping in the suppliers on freight moves to facilitate cooperation and streamline supply chain processes.
Collaboration between suppliers and retailers drives cost savings and improves service throughout the supply chain.
Learn more about our Retail Logistics services!
Want to learn more? Click here to learn why retailers are questioning everything about omni-channel.
FacebookTwitterShare
‍