Supply chains share common goals: increase productivity, reduce costs, mitigate risks. Common goals for reverse logistics are to improve customer satisfaction, cut costs, maximize return on assets. Reversing the supply chain means taking in returns, recalls, damaged goods and overstocked merchandise and recapturing its value or disposing of it. With the popularity of online shopping, the supply chain has become more multifaceted, increasing the importance of an organization's reverse logistics strategy and inventory management practices.
The Importance of Reverse Logistics
Of all products sold, an average of 8%-12% are returned, and the cost to return those units is 2-3 times more than bringing them to market.
As Inbound Logistics notes, planning for product distribution failures or product rejection is off-putting; it's a case where everyone loses – the unsatisfied customer who sends back the product, the supplier who gets parts back, and the manufacturer who wasted resources creating and distributing products that were unneeded or unwanted.
An average consumer goods retailer's reverse logistics costs are equal to 8.1% of total sales. A manufacturer will spend 9%-15% of total revenue on returns. Improving reverse logistics can help a company increase revenue up to 5% of total sales.
Effectively managing reverse logistics means finding opportunities to make money out of returns. Inbound Logistics suggests companies find monetary opportunities by reestablishing returned merchandise into the selling stream, disposing it more resourcefully, labeling the root cause of the return, and ultimately reducing the number of returns.
Managing returns is as important to consumers as it is to an organization. According to RL Magazine, 82% of those surveyed are likely to complete a sale if the retailer offers a free return shipping label an in-store return policy and 66% of customers look at the return policy before making a purchase. Effectively managing the reverse logistics strategy has a positive impact on the bottom line and inventory management.
Returns and Inventory Management
Inventory management is accountable for planning and controlling the product life cycle – from raw materials to the end consumer. Inventory managers must establish an amount of merchandise that will balance the risk of running out of the product with storage costs.
Safety Stock: Buffer short-term uncertainty of supply and demand
Cycle Stock: Available inventory for normal demand.
Excess Stock: More inventory than what is allowed
Anticipation Stock: Inventory kept to meet seasonal demand or shortfall caused by erratic production
The number of returns directly impacts the amount of inventory. With too many returns, inventory can be built up, even freeze production, if the returned product can go back to market. Recoverable inventory is considered for remanufacturing, and remanufactured products are considered 'like new' items, which have the same quality and the same price as new merchandise.
Companies have recognized that their inventories are growing because of the return option, and are looking for inventory reductions that balance the company's sales growth.
The Wal-Mart Example
Wal-Mart's inventory comes from more than 70 countries and at any given time, the retailer operates more than 11,000 stores around the world, and manages an average of $32 billion in inventory. Tradegecko reports that Wal-Mart has become the world's largest retailer with the highest sales per square foot, inventory turnover, and operating profit of any discount retailer. Wal-Mart has taken their supply chain seriously, using best practices like cross docking and vendor managed inventories. These strategies keep transportation costs down, reduce lead time and eliminates inefficiencies.
In 2016, The Wall Street Journal reported that Wal-Mart Stores clamped down on inventory growth and reduced shipping costs while putting more goods on the shelves in front of consumers. Wal-Mart's overall inventories grew 0.9% in the fourth quarter of 2015 compared to the same period the year before, which was 25% of the rate of total sales growth, and inventory measured against comparable stores for the year before declined 2.9%. Wal-Mart's efforts to restrain inventory growth have been complicated by the surging e-commerce sales. The company is trying to balance its current use of DCs and separate fulfillment centers. (Source)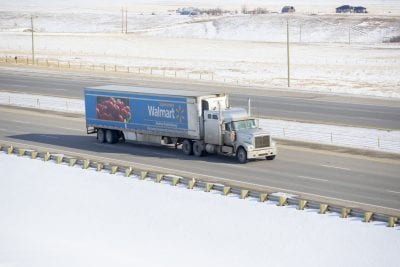 Wal-Mart began its Inventory Deload program in 2006 after learning its total inventory levels had been rising at a much higher rate than the company's sales growth. In 2004, inventory levels at Wal-Mart grew at almost 90% of sales growth and just under 90% in 2005. In 2007, the Wal-Mart Stores division reversed the inventory trend, with inventory growth just 0.7% versus a sales increase of 5.8%. (Source: Supply Chain Digest)
Transportation Management and Inventory
With an established inventory strategy and reverse logistics process, organization's must also consider their transportation management. Shipment visibility that is cost effective is critical to an organization's various inventory demands. TMS software reduces logistics costs with its real-time ability to assess transit time, determine the best mode and lane, reduce labor, be notified of risk or disruption, and monitor volumes, trends and performance.
What to Read Next:
Source: Dynamic Inventory Management in Reverse Logistics (Kleber, Rainer)
‍