Supply chain efficiency is top of mind for companies in all sectors – efficiency means reduced costs and increased output. Today, tech advancements like drone delivery, autonomous vehicles and the Internet of Things enable supply chains to increase efficiency and productivity by connecting to smart components in the supply chain.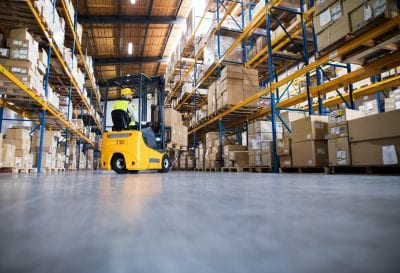 Supply chain management has experienced an accelerated rate of change – first, implementing machinery, followed by electronic inventory, routing and record keeping. Then, ERPs enabled better forecasting and management. These modifications were necessary with the growth of globalization, manufacturing and technology.
Supply chains will continue to evolve with technology and meet the growing needs of consumers.
What trends will affect future supply chains?
Declining Product Lifecycles
According to Supply Chain Digital, product lifecycles are estimated to have halved over the last 10 years and will likely shrink by another 50% by 2020. Less lifecycle means replacing products/service more regularly, which forces companies to analyze their supply chain processes to streamline reverse logistics, track inventory and shipments with a TMS, and monitor KPIs.
Globalization
The business landscape is global; customers, suppliers and competitors span across the world. By 2020, 60% of companies expect to be sourcing from more countries than they do today and about 80% of manufacturers expect to have multi-country operations. This will be possible with modern transportation management, logistics capabilities and savvy IT systems.
Millennial Expectations
Service chains will be as important, if not more important, than the product chain. With demanding, astute consumers, collaborating pre- and post-sales will trump product-centric competition. 86 million millennials will be in the workplace by 2020 – these millennials grew up in the digital experience, and will expect companies to know their individual needs and personalize all experiences.
How can you prepare for the evolution of the supply chain?
Follow a demand-driven approach. Demand-driven planning will assist the management of inventory. A demand-driven approach helps create a more customer-focused supply chain, and allows for operational efficiency.
Implement transportation management technology. Technology that enables quick and efficient management of goods is mandatory. A bank of historical data is important for future optimization, too.
Take the time to discover the best options available for your business. Flexibility for the global supply chain will support integration of manufacturing, distribution, materials and consumers.
Optimize the flow of materials through the entire supply chain network by every means necessary. Make continuous improvements so that in the future you won't have to make one large overhaul.
Supply chain costs can be contained or reduced with organized inventory management, proper logistics operations and supplier collaboration. As modern technology drives change to organizations of all products, materials, sizes, and locations, business processes and supply chain efficiency will remain a priority. To remain successful, companies should focus on demand-driven inventory planning, globalization and its effects, shortened lifecycles, smart consumers, and productivity.
Continue Reading: