Many businesses struggle to move freight efficiently, save on transportation and manage their supply chain to meet the delivery deadlines in the time of tightened capacity. Freight consolidation is one of the most promising options for companies who want to compete with giant retailers and are seeking solutions for a fast, convenient, cheaper option to ship their goods. Usually, the amount of freight from one shipper is too small for a full truckload, and it is expensive to regularly book full truck capacity to ship loads with different address destinations. One of the most efficient solutions to reduce costs and achieve shorter transit times is freight consolidation.
What is freight consolidation in logistics?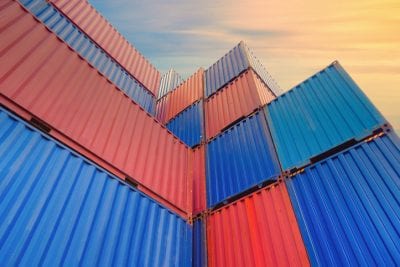 Cargo consolidation is when multiple small shipments are combined into one truckload and forwarded to the same location. Basically, it is a multi-stop truckload shipment with several shipments that are picked up in a consolidation warehouse or distribution center and remain in the same truck until it reaches the final destination.
There is a well-built rule in breaking shipping costs: the bigger the load volume is, the lower the cost per unit. This enables shippers to combine their loads and share transportation costs.
What are the benefits of freight consolidation?
Reduced rates. Since you share truck capacity with other shippers and the fuel usage is decreased, the overall price of transportation is split according to the weight and distance of the freight.
Faster transit times. Although shipment consolidation is slower compared to full truckload, the lower price and route without frequent stops reduce overall transit time, letting you meet the order delivery deadlines and save on transportation costs.
Fewer emissions. It is eco-friendly to combine several loads and transport them all at once instead of using separate trucks for the same amount of freight. Apart from the lower prices, solid route lets you utilize less fuel and reduces emissions.
Shipment safety. Cargo consolidation offers a safer shipping option since your freight's handling is limited. The more shipments that are combined, the higher the probability is that all of them arrive undamaged because the large volume of freight puts a higher responsibility on the carriers.
Confidence in the service. It can be tricky to arrange consolidated shipping on your own. Logistics providers handle such orders every day and know what option will be the best fit for you. Supply chain technology, like a transportation management system (TMS), lets you gain full visibility into your shipment transit.
It can be hard to find a carrier that does consolidated shipping. However, a convenient shipping service provider can resolve this problem. Cargo consolidation is a good decision for shippers who regularly move goods headed in the same direction and is perfect for transporting fragile items since there is no extra handling of your product.
Whether you are deciding if the consolidated shipping matches your needs, partnering with an experienced 3PL will simplify the process for you. If you need any help with your shipment, contact our experts or get a free estimate on your load.
‍