Despite the fact that breakbulk shipping is extremely common, sometimes even experienced shippers need more clarity on the definition of this method. In over-the-road transportation, container shipping is prevailing. However, there is cargo of huge and unusual sizes that fits neither in a regular container nor in aircraft.
What is breakbulk shipping?
Breakbulk cargo refers to oversized cargo that is unloaded from the ship and needs to be delivered to the facility or final customer. The distinctive feature of breakbulk cargo is that it cannot be moved in a container like regular cargo, and is transported individually with the use of specialized equipment.
What is the difference between bulk and breakbulk cargo?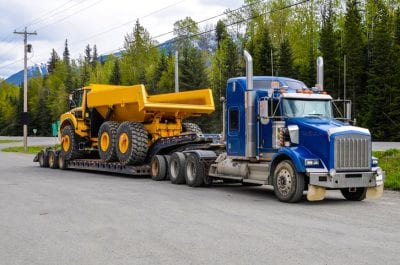 Bulk and breakbulk are often confused despite that these are completely different terms. Bulk freight refers to a liquid or grain cargo that is carried in a loose form and is loaded directly into freight bin or container. Therefore, breakbulk originally comes from 'breaking bulk freight,' which means pieces of large freight. Bulk freight commodities often include grain materials, liquids, coal, iron ore, etc. On the other side, breakbulk would more often mean equipment, machinery, pipes, engines, boxed concrete, etc.
When is it recommended to use breakbulk shipping?
Breakbulk shipping has many advantages for shippers who move a large volume of freight over the long distance. Companies that handle this type of transportation will ship your cargo directly from the unloading dock at the port to your final customer. This way, you can avoid many extra steps in the transportation process and save costs. However, breakbulk shipping certainly won't be a cheap option since it requires special equipment and is time-sensitive.
Breakbulk commodities
Here is the list of commodities that are often moved through breakbulk freight:
Barreled and drummed freight
Vehicles and machinery
Steel details
Pipes
Engines and other oversized equipment
Boxed cargo
Arranging breakbulk shipping can be challenging and requires thorough planning and coordination. That's why partnering with an experienced third-party logistics provider will help you save time and costs while getting the best result. PLS Logistics has decades of experience in industrial freight shipping. We can handle your breakbulk freight and deliver it directly to the customer.
‍