As tensions between the US and China started to escalate, the retail industry was probably the first to experience the unpleasant consequences of a trade war. With the US eventually putting $250 billion of Chinese goods under 25 percent tariffs, retailers now have to deal with higher prices and difficulties in adjusting to economic updates. Considering that enlisted goods that fall under the tariffs include clothes, shoes, and electronics, it will be quite challenging for some companies to manage international shipping and commerce between the US, Canada, and other countries with the new rules of the market.
How did the trade war affect retail?
Many American retailers, ranging from small businesses to giant consumer goods and high-end fashion brands were greatly affected by imposed taxes. Stores like Macy's and Nordstrom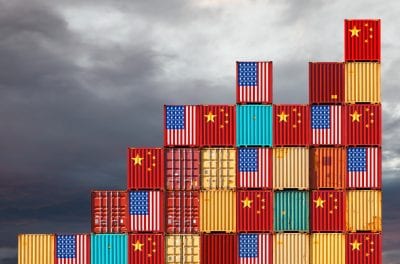 experienced a 7 percent decline, while Best Buy and Office Depot fell 10 percent. Even luxury brands with manufacturing rooted in China suffered a bump in import tariffs. While some tried to quickly relocate factories to nearby countries like Vietnam or Cambodia, long partnerships with China were too tight to break. Additionally, no other country offers the same quality for the price range, which makes brands extremely dependent on their manufacturing mogul.
Associate Professor of Fashion and Apparel Studies at the University of Delaware, Sheng Lu said: "Even though the tariff war will further reduce the price competitiveness of [goods] made in China, it will not fundamentally shift China's overall competitiveness as a sourcing base, especially in the short-term. US retailers may quickly move sourcing orders from China to other suppliers for basic fashion items, such as tops, bottoms, and underwear. However, there seem to be many fewer alternative sourcing destinations for more sophisticated product categories, such as accessories and outerwear."
Northern border: How did the trade war impact international shipping in Canada?
There were different predictions on how new tax policy will affect trade relationships and international shipping between the US and Canada. While it became more expensive for Canadian customers to shop for American goods, US citizens now have more motivation to buy from Canada. Also, the new tariffs make some Canadian companies reconsider their suppliers and switch to buying directly from China than from the US due to higher taxes. Also, rising prices on electronics and apparel will make Canadians more prone to buy from local retailers. Generally, it's estimated that Canada will get an export boost due to lower prices for the same products.
The interesting thing is particular industries of the Canadian economy got a huge boost from the US-China tensions. Apparently, it's fishing. Since the trade war has undermined America's own lobster industry, Canadian northern fishing companies are seeing increasing demand for lobsters for record prices. However, Canadian manufacturers who buy from China and export end products to the US will face tariffs as well.
Ultimately, there are many countries that may find the trade war beneficial. Top of them is Australia, Mexico, Brazil, Canada and such countries like Taiwan and Vietnam, which are potentially replacing some of the Chinese suppliers.
‍