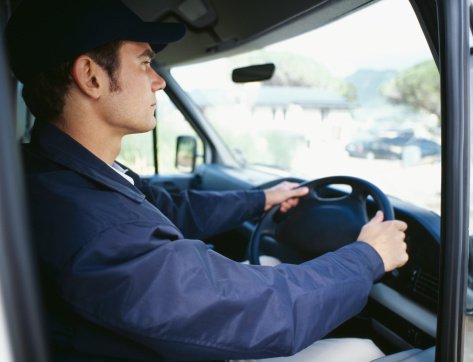 The transportation industry faces a unique problem in today's economy: hiring new drivers. Most current truck drivers are approaching retirement, and few people are willing or able to replace them. This means that freight carriers must start getting creative and investing heavily in the ways they recruit new drivers. There are many ways to recruit, but there's a common theme in all of them. Jeff Stoicheff, Senior Vice President of Human Resources at Penske Logistics, sums it up well when he says, "It's about respect; good pay and benefits; safe, reliable equipment; and home time." A freight carrier must appeal to these driver needs to be a competitive recruiter.
Pay and Benefits
Increasing driver pay is one of the most important aspects of recruiting. A freight carrier has to provide a competitive level of pay, or no one will want to drive for them. Gordon Klemp, Founder and President of the National Transportation Institute, says driver pay would have to increase from $40,000 – $50,000 to $80,000 – $90,000 per year if the current issue were to be seriously resolved. Due to the unstable economy, this is very unlikely to happen.
Driver pay has been stagnant over the past couple of years. Klemp also stated that due to inflation, drivers have lost 3.8 cents per mile since 2007. Driver pay is very important, if not the most important aspect of recruiting and carriers are now focusing on this issue.
Swift Transportation, Con-Way Truckload, and US Xpress are all making dedicated efforts to increase driver pay. Swift Transportation did not disclose the amount they will be increasing pay but said that it will be a significant amount and further increases in the future are likely. US Xpress has increased their drivers' pay by about 13% across the board.
Con-Way has also made significant changes, increasing pay by 42.5 cents per mile, adding a bonus program of 1.5 – 3 cents per mile, and increasing layover pay to $75 per day. These numbers are far from the increase that Klemp claims is necessary to attract new faces to the industry, but they are certainly a good start and make truck driving appeal to a wider crowd.
Driver Respect
An important aspect of recruiting is retention, especially with new drivers. Most recruiting efforts are wasted if drivers don't want to stay on the job, so treating drivers with respect is crucial. This begins in the recruiting process. Recruiters have to be open and honest with potential drivers so that they know what they're getting into ahead of time. This will significantly increase the likelihood that drivers will remain on the job.
The entire company, not just recruiters, must treat truck drivers with respect, especially during the first few months. Developing a personal relationship with new drivers, allowing open communication, and providing a method for them to make suggestions, vent frustrations, and ask questions, will make them feel appreciated. Terry Chappell, Safety and Recruiting Coordinator for Fikes Truck Line, goes out of his way to ensure these things are happening. He calls new drivers after their first week on the job to ensure everything went smoothly and answer any questions they might have. This type of one-on-one communication is exactly what drivers need to feel respected.
Trent Dye, with Paramount Freight Systems, a multiple Best Fleet to Drive For honoree, says his company created a buddy program. Experienced drivers were paid extra to stay in contact with new drivers for 60 days and answer any questions they might have. Not only does this help new drivers transition into their job, but it makes the older drivers feel their expertise is valuable and appreciated. Their buddy program has been a huge success and there is actually a waiting list for experienced drivers to become mentors.
There are many ways you can show drivers that they are appreciated, but it's crucial that you do show them somehow. One of the best ways to recruit is through other drivers, and if your company is known to be a great place to work, you may not have to invest so much in recruiting.
Technology and Other Recruiting Tactics
Utilizing technology can be of great benefit to recruiting efforts. Social Media outlets are free and are a great way to reach out to future potential drivers. Many companies who hope to hire experienced drivers have trouble reaching them during normal business hours. There are several apps for drivers to view open positions. Also, new recruiting software has features such as automated employment screenings and applicant tracking systems. These can save time and money towards recruiting efforts.
Jeff Stoicheff of Penske Logistics says with so many technological outlets for recruiting, carriers must utilize them to reach out to drivers; however, simply bombarding every outlet is rarely effective. Carriers must see what works for them, and implement their own unique solutions.
Indiana-based Celadon-Group is taking driver recruitment very seriously and has put their own solution in place. They have created their own driver school, including a $7 million training center, which greatly benefits applicants and the company. The program allows potential drivers to earn their CDL in four weeks. The training is free, as is the CDL, housing, meals, and transportation during the program. The training center has a basketball court, racquetball court, and workout room to encourage a healthy lifestyle. On top of all this, the trainee has a guaranteed job after completing the program. The only requirement for driver trainees is to fulfill the contract to drive 120,000 miles with Celadon after completing the program.
It is these types of programs that will attract new drivers. There are many different ways a freight carrier can get creative to recruit drivers, as long as they do it. A freight carrier must find what methods work for them and invest heavily in those recruiting tactics.
‍