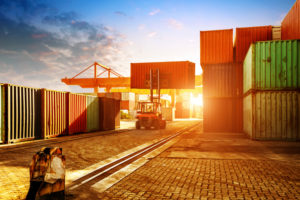 The container terminal at dusk
A third party logistics (3PL) company is defined as an external supplier that performs all or part of a company's supply chain management. Many 3PL's offer a wide range of services that include inbound freight, outbound freight, freight consolidation, warehousing, distribution, and order fulfillment. Over the past few years, there has been a huge growth in 3PLs and this has been attributed to the need for companies to become leaner, reduce assets (including headcount) and focus on core business processes.
There are three different types of 3PLs and they are defined as:
Asset-based firms use their own trucks, warehouse and personnel to operate their business. (UPS or FedEx are examples of asset-based companies). They own their own fleet of trucks and offer a comprehensive set of logistics services. Functions are typically arranging shipments, customs clearance, shipment visibility and carrier management/rate management. Benefits of working with this type of firm are typically shorter cycle time, lower freight cost and visibility of pipeline inventory.
Non-Asset-based firms do not own their own trucks or warehouse space. (PLS Logistics, for example). They provide outsourced logistics solutions and freight brokerage services and have a large network of freight carriers that they partner with.
Warehouse/Distribution-based firms have warehouse and/or distribution experience (Think Caterpillar Logistics). Functions include labor and supervision, receiving, storage and shipping. Benefits include lower capital investment and lower fixed/variable cost ratio.
Financial-based firms provide freight payment and auditing, cost accounting and control, tools for monitoring, booking, tracking and tracing and management inventory (For example, GE Information Services). Functions include inventory finance, distribution finance, payment solutions and leasing. Benefits are reduced cost of capital, improved cash flow and reduced capital investment.
Partnering with a 3PL is an excellent way to cut costs and increase profit. There is no need to invest in a fleet of trucks in order to save money on your transportation costs. The use of a 3PL can help a business expand into new markets. Businesses can narrow the focus on their core capabilities and let the 3PL provider control the transportation function. But first, a company needs to determine the type of 3PL they want to work and how they best fit into your supply chain needs.
‍