Some things never change – and neither does the tradition of putting up a Christmas tree. Christmas trees are a cozy, warm association with family time, delicious food, snowy weather and joyful Christmas music.
Many people will go out and cut down their own Christmas tree or buy an artificial tree at the store for their home. In the rush of the holiday season, many people don't think about how large volumes of Christmas trees are harvested, sold and transported.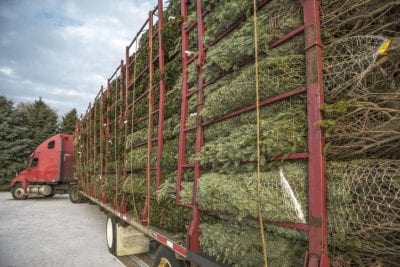 Here are some interesting facts about the logistics behind the beloved Christmas tree:
Every year, nearly 25-30 million trees are sold across the United States and placed in homes.
There are 15,000 specialized farms for growing Christmas trees based in every state, and most are located in the Northern States, such as Oregon, North Carolina, Michigan, Wisconsin, Washington, New York and Virginia.
There are many different names for Christmas trees, including fir, pine, spruce, cypress, and cedar.
In 2017, $27.4 million of real trees were purchased compared to $21.1 million of fake ones. The total revenue of selling Christmas trees reached $2 billion in 2017.
Amazon announced they will start shipping Christmas trees this year.
How are Christmas trees shipped?
Real plants require special shipping conditions, which can make their transportation rather complicated. Usually, trees are moved in dry vans or refrigerated trucks with temperature control. Christmas trees are not recommended for shipping with several pickup/unloading stops, and long distances should be avoided as well. Plants are sensitive to wind, temperature shifts, and other climate factors, so flatbed shipping should be avoided.
In general, the main goal while moving firs and pines is to deliver them as fast as possible, based on the required environmental conditions. These trees like a cold climate and humidity, so they should be put in water as soon as possible.
It may be complicated to arrange Christmas tree shipping, as many carriers refuse to take responsibility and deal with these difficulties. Our shipping services with refrigerated and specialized shipping, in particular, can let you transport Christmas trees safely and on-time.
‍