Intermodal transport has recently become a popular topic throughout the transportation industry. Many companies have started utilizing intermodal to save them time and money on their shipments. We will discuss the reason many companies switch to intermodal transport, and how intermodal transport can save companies money, increase the safety & transit of a shipment, and even help reduce the company's environmental footprint.
What is Intermodal Transport?
Intermodal transport is the transport of freight without handling the freight when changing modes. Every mode of transport (rail, truck, ship) has a different transport carrier responsible for the shipment. When using intermodal transport, there are several contracts involved in the shipment (one with each transport carrier to handle their part of the shipment).
Cost Savings
If your company is shipping freight a long distance, you should consider intermodal. The longer the distance to travel is, the greater the opportunity is to save using intermodal transport. Companies can look at rates in different geographic zones to see where intermodal transport may best fit their needs. Intermodal can also save companies money using more predictable pricing and flexibility of loading and unloading goods, which can help reduce handling costs.
Increase Shipment Safety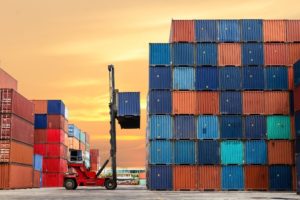 Intermodal transport can use rail as one of the modes of transport, which can be significantly safer than over-the-road trucking service. Railroads have less accidents and are trusted to carry hazardous materials more than trucks and other modes of transport are. Rail transport can also be more secure and have less theft than truckload shipping has.
Environmentally Friendly
Shippers can significantly reduce their carbon footprint by utilizing intermodal transport. Moving one ton of freight one mile through rail can reduce CO2 emissions by 83%. Rail is a very environmentally friendly option for companies to use through intermodal shipping if they are looking to reduce their overall carbon footprint.
Intermodal shipping can be a great resource for your company's shipments. PLS Logistics offers a large network of highly experienced intermodal experts to help service your shipping needs. Get a quote today!
‍