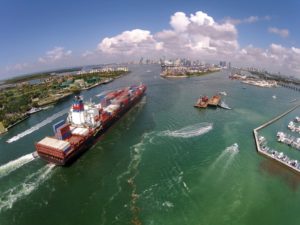 Supply chain disruptions are unpredictable, and often inescapable, but they don't have to destroy business operations. When supply chain disruptions occur, delays are unknown and there is a loss in time, money and labor.
For example, ports on the West Coast recently experienced a short-term shutdown, which affected transport of imported and exported goods. More than 40% of all cargo shipped into the US comes through the 29 West Coast ports. There's never a good time for supply chain disruptions, but this specific situation caused financial harm to businesses and the economy because of lasting effects from rerouting, inventory depletion, destroyed products, and slowed business procedures.
On February 20, 2015, an agreement was reached to resolve the dispute. The new contract will last for 5 years, so shippers and businesses should prepare for potential port closures in 2020, if the same issues arise.
This particular supply chain disruption presented 4 major problems, which included:
Added costs based on rerouting goods to the East Coast or the Gulf Coast ports which increased transit time and carrying time.
Lost money and space by buying extra inventory.
Spoiled products because they were held up at the port, especially agricultural goods.
Stopped production, specifically from the automotive industry, as they waited on foreign supplies.
The congestion and financial impact will take months to clear. To reduce future supply chain risks, consider these 3 solutions:
Diversify the Supply Chain: Add alternative options to the traditional supply chain: switch to a local supplier, differentiate ports of entry and find substitute materials.
Create a Crisis Management Plan: Reduce risk by understanding individual business needs and where required product suppliers and manufacturers are located. Disruptions like a port shutdown or overload, natural disasters, a supplier closing its doors, or a machine in your assembly line breaking shouldn't shut down business.
Partner with a 3PL.  A third party logistics company will provide visibility, smart rerouting, fast solutions and logistics management in the case of a supply chain disruption. If transportation slows down based on a disruption, a 3PL has a qualified network of carriers to ensure capacity to keep freight moving to the customer.
It's projected that the West Coast delays will cost the retail industry $7 billion this year. Consequences of the West Coast supply chain disruption are widespread: more expenses, less profits and operational congestion. Any disorder in the supply chain seriously threatens the bottom line.  PLS Logistics partners with clients to provide transportation market updates that will forecast delays and disruptions, and ensure that your freight moves as efficiently as possible, no matter the circumstances.
‍