Rail transportation has historically been cheaper and slower than over-the-road (OTR) transportation. It's a valuable service for raw materials, freight that is not time-sensitive or freight that is expensive to haul. As OTR costs rise, many shippers look for new opportunities to reduce overall transportation spend, and despite the current rise in rail costs, intermodal is a practical alternative.
Rail Transportation is Experiencing a Slump
Rail companies, since the fourth quarter of 2015, have seen revenues fall. In fact, Q4 revenues for the top 6 rail companies were down by one-fifth of what they were in 2014 and could drop by another 20% in 2016. On top of this, rail companies have planned less capital expenditure projects for 2016, due to lower expected revenues.
The last 10 years have been a golden age for rail companies – profits high, freight volume consistent and private companies spending as much on rail infrastructure as the U.S. government spent on fixing roads. The 6 biggest freight-rail firms' revenue grew by 58% between 2004 and 2014.
But now, rail companies are facing a tougher economic environment due to the commodity price crash. The coal industry is hurting badly due to government regulations and the cost-effectiveness of natural gas for domestic power generators. The shale industry has all but stopped production due to the current oversupply of oil and gas. These commodities had made up a significant portion of rail freight.
Without these customers, freight-rail companies' revenues have shrunk. In response, they must raise the price of transporting goods.
To be clear, rail companies are not hurting in the same way coal or shale companies are. Freight-rail companies have a net debt of 1.8x gross operating profit. Even though times seem tough for rail companies, it's viewed as temporary, and the companies have enough resources to weather the storm.
Trains are slower than trucks. And, when they're more expensive, shippers move rail/intermodal freight to OTR carriers. So how can rail transportation still be a viable option for shippers?
3PL Rail Capabilities
Third-party logistics (3PL) companies have access to tens of thousands of carries, which include Class 1 rail firms. Shrinking revenues, looser capacity and higher rates all point to the fact that rail companies need to haul more freight. A 3PLs large network of rail carriers allows them to make the bid process more competitive – which significantly drive down base rates.
3PLs have the capacity, proficiency and technology to make rail freight movements profitable with a high quality of service. 3PLs have many capabilities in the rail industry to save you time and money.
Notable rail capabilities that 3PLs possess: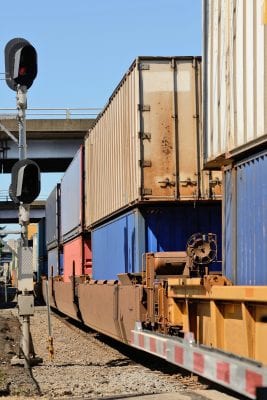 Ordering Cars
Tracking Car Supply
Monitoring Demurrage
Entering Shipping Instructions
Tracking Cars En Route to Destination
Identifying and Solving Disruptions Before they Become Disastrous
Quoting Rates
Auditing and Paying Freight Invoices
Coordinating Transloading
Measurement and Reporting of Freight Performance and Costs
When you're partnering with a 3PL to move goods by intermodal or rail, they are able to provide you with detailed reports on performance and costs which are critical to efficient operations. Visibility into these processes is the first step to optimizing and streamlining transportation management. You can't reduce costs until you know what's costing too much. Data produced by a TMS supports your choice of carriers, mode and lane for each of your shipments.
Here is a quick overview of the most important points of visibility a TMS provides, specifically relating to rail transportation:
Rail PerformanceRail CostsContract Carrier Compliance – percent acceptanceBase Rates – benchmarked by industry standardLoad Times – time spent actually loading freightPremiums – broken down by reason codesLead Times – length of time to secure a shipmentCustomer Mix Change – long vs. short haul costsLight Loads – number of not fully loaded trucksFuel Spend – compared to industry averageCurrent Outbound Car Locations – real-time status updates on outbound freight progressDedicated vs. Common Carrier Costs – difference in costs between dedicated and public carriersCurrent Inbound Car Locations – real-time status updates on inbound freight progressTruck vs. Rail Premiums – measure by lane where applicableDemurrage and Dwell Time Reports – summary of loading/unloading inefficienciesDetention Costs – costs accumulated from inefficient loading/unloadingFleet Utilization – summary of efficiency of dedicated or public carriersFreight Cost Recovery – overall freight spend vs overall revenue
Keep Reading:
‍