Hazardous materials are essential supplies for our everyday life. From cosmetics and household goods to chemicals, oil, and batteries, the hazmat category is a separate segment of freight which requires strict regulatory compliance and safety measures. Shipping hazardous materials is a complicated and responsible task, where the price of error is extremely high.
What is hazmat and hazardous materials?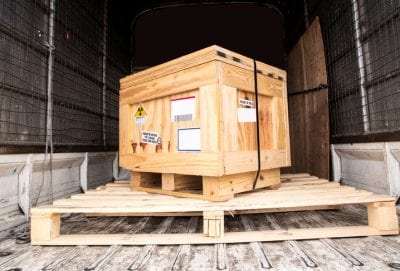 Any items of substance that possess danger to humans, animals, or the environment, either by themselves or under the influence of certain factors, are classified as hazardous materials. Essentially, hazmat handlers, carriers and distributors hold responsibility for complying with rules and regulations on hazmat shipping.
DOT hazard class and materials table
The Department of Transportation has specific rules and requirements for shipping hazardous materials, including hazmat classification. DOT defines 9 different classes of dangerous goods, and each of those has sub-classifications and handling instructions.
How many hazard classes are there?
According to DOT, there are 9 classes of hazardous materials.
Hazard Class Type of MaterialsDescription 1Explosives1.1 Mass explosion hazard
1.2 Projectile hazard
1.3 Minor blast/projectile/fire
1.4 Minor blast
1.5 Insensitive explosives
1.6 Very insensitive explosives
2Compressed gases2.1 Flammable gases
2.2 Nonflammable compressed
2.3 Poisonous
3Inflammable liquidsFlammable (flash point below 141°)
Combustible (flash point 141°-200°)
4Inflammable solids4.1 Flammable solids
4.2 Spontaneously combustible
4.3 Dangerous when wet
5Oxidizers and Organic Peroxides5.1 Oxidizer
5.2 Organic Peroxide
6Toxic Materials6.1 Poisonous material
6.2 Infectious Agents
7Radioactive MaterialAny type of ionizing radioactive materials8Corrosive MaterialA material that causes damage or destruction of human skin or results in severe corrosion on steel9MiscellaneousA material that is dangerous but doesn't fall under any of the above freight classifications
How to ship hazardous materials?
Before turning to any carriers for shipping hazmat, make sure they have proper certifications and permits. In the United States, all the processes for keeping and moving dangerous goods are regulated by 49 CFR. It is a Code of Federal Regulations, a governmental law that regulates domestic transportation of hazardous materials. Anyone who handles this kind of transportation needs to thoroughly know 49 CFR in order to comply. This document includes all the instructions for handling and transporting dangerous goods.
Hazmat Shipping With PLS Logistics
At PLS, we will work with you to learn the hazmat transportation requirements of your freight and help you comply with the regulations.
Learn more about our Hazmat Shipping services!
‍