The trucking industry is adjusting as fuel prices fluctuate, the driver sh
ortage continues, and new regulations are authorized.
The ELD mandate is causing waves of concern among shippers and carriers. The rule could drastically change the trucking landscape.
Electronic logging devices (ELDs) are predicted to bring safety and proficiency to the industry. The DOT estimates the devices will save $1.7 billion and reduce the number of truck accidents by more than 1,800 a year.
Fleets that have already installed ELDs say they're able to monitor drivers' hours more closely and make strategic planning decisions to maximize productivity. The availability of data will increase exponentially because ELDs transmit information to and from trucks and operators.
About half of the trucking industry has installed ELDs – the half that has not is made up almost entirely of small carriers who don't want to or can't make the monetary, technological investment.
Even though the rule has positive implications, it affects about 3 million truck drivers. When the mandate is official law in December 2017, more drivers and carriers, particularly owner-operators and small carriers, are expected to leave the industry.
Most drivers or carriers will leave the industry because:
They've failed to adopt or understand the technology
Small- and mid-sized carriers can't afford the initial investment and upkeep
They've ignored HOS rules in the past and are operating illegally
Drivers fear that time at loading docks, traffic congestion, and poor scheduling will chip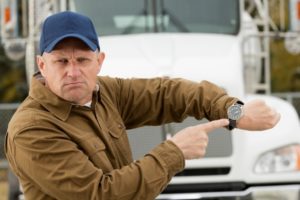 away at earning time, leaving them with less than they had going into the mandate
ELDs Threaten Capacity
If more drivers and carriers leave the industry, it would result in a serious capacity issue. Capacity could be cut between 3-5% once ELDs are mandatory, and, considerable hikes in freight volumes are projected in the coming years. In 2015, trucks moved 64% of freight tonnage, and by 2045, tonnage is expected to increase to 69 million tons per day.
More freight and less capacity creates competition for trailer space, which leads to higher shipping rates.
With the threat of tight capacity, shippers should create a transportation management plan, accommodate drivers' needs and schedules, invest in a TMS, and collaborate to create backhauls or other shipping options. Shippers have to consider rates, driver coercion, and pickup and delivery times.
Broader Effects of ELDs
For carriers who don't leave the industry, once the initial challenges of ELD adoption are overcome, ELDs will offer carriers two serious benefits: 1) more effective asset utilization and 2) innovative routing solutions for freight moves. Then, shippers will benefit from these new carrier capabilities.
As the economy evolves and businesses grow, shipper-3PL relationships will broaden. Expand your relationship with a 3PL to identify solutions to ongoing pain points like capacity shortages and rate increases. 3PLs provide valuable expertise and enable more productivity, better customer experiences and transportation cost reductions.
A 3PL has long-standing agreements with carriers and shipping companies to help increase efficiency of all parties. As smaller carriers are adjusting to the implementation of ELDs, a 3PL will be a valuable partner to help keep shipping costs down.
In the long-run, ELDs will improve asset utilization for drivers and carriers, but in the meantime, it could create headaches for shippers by taking away needed capacity and increasing rates.
What to Read Next:
Request Freight Assessment
‍