Intermodal transportation is a hybrid system that relies on an interchangeable relationship among truck, rail and barge. Intermodal transport is a reliable mode, providing standardized transit schedules, low costs and easy access to equipment.
Reviewing 2016 Intermodal Predictions
Tony Hatch, a rail analyst at ABH Consulting, predicted that intermodal transport would surge in 2016 due to the ongoing driver shortage, its reputable, less damaging environmental impact, new, strict government mandates, and problems with the country's eroding highway infrastructure.
Shippers, on the other hand, had low expectations for 2016 intermodal volume growth; they said they expected roughly a 1.5% increase in intermodal during 2016.
The ATA said intermodal transportation was predicted to grow at a rate of 6.6% per year until 2016. Through the end of the first half of 2016, intermodal containers and trailers were down 2.3% year-on-year.
Today's intermodal situation demonstrates that positive forecasts for 2016 were off – traffic plunged during the first half of the year and commodities frequently moved on rail severely declined. The pressure of decreasing oil prices, the shift of import cargo from the West Coast to the East Coast, lower truckload rates and overcapacity, and a strong dollar created challenges for intermodal.
2017's Intermodal Predictions
Next year's intermodal predictions are positioned around growth. Technology innovations will set a standard for speed and service. According to the Association of American Railroads, rail accidents are at an all-time low and it is a direct effect of investments in new technologies. The ATA forecasts that intermodal transport will grow at a rate of 5.5% per year until 2022.
Carload and intermodal transportation will likely recover. Intermodal will gain traction when truck capacity tightens due to government mandates. Cyclical economic factors, like freight shortages in the industrial sector, will ultimately pick back up.
The Future of Rail
The ATA projected that rail transportation will see a decline in tonnage and revenue. By 2022, it may only account for 14.6% of the transportation industry, whereas in 2010, rail accounted for 15.3%.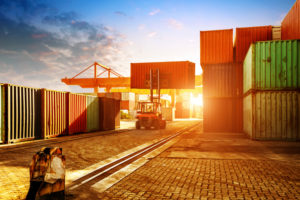 The trucking industry is expected to see extremely tight capacity in 2017-2018. But, when autonomous trucks become common, there will be an abundance of capacity, generating a substantial decrease in OTR rates. So, as we move into the 2020s, being competitive with OTR transportation will only be more difficult for railroads.
Are There Benefits to Intermodal Transportation?
Shippers can take advantage of low rates, predictable pricing, and flexibility of loading and unloading goods in a dropped trailer environment.
To determine the effectiveness of intermodal for your company, analyze lanes and identify where your loads are going and where they come from. The longer the haul, the greater the opportunity for savings.
Rail transportation is energy efficient. With intermodal, moving freight costs less. Shippers can reduce their carbon footprint with intermodal; trains only emit approximately 5.4 pounds of carbon dioxide per 100 ton-miles, but trucks emit about 19.8 pounds.
Want to learn more about intermodal transportation? Read these s:
Click Here for Logistics Management Best Practices White Paper
Sources: JOC, SupplyChainQuarterly
FacebookTwitterShare
‍