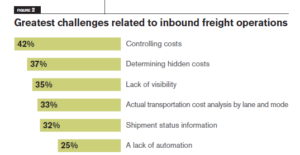 Transportation is coming to the forefront of shippers' cost reduction, efficiency and operational strategies due to its oversized contribution to supply chain costs. Inbound transportation is particularly inefficient and costly, eating up 3.6% to 5.2% of a company's total annual sales.
PLS Logistics and the Peerless Research Group have released new research on inbound transportation's challenges, costs and opportunities.
Click here to download the research brief.
The research brief shows that 42% of shippers struggle with controlling inbound freight costs and 35% of shippers find the lack of inbound visibility challenging.
This research brief explores:
How inbound transportation is managed
The biggest challenges associated with inbound freight movement and why they occur
What companies are doing to better manage inbound transportation costs
Actions to take to better control inbound freight moves and the benefits gained from it
Request Freight Assessment
FacebookTwitterShare
‍