The 2017 Capgemini Third-Party Logistics Study revealed that 3PLs and shippers are moving toward more meaningful relationships, where shippers rely on 3PLs to provide advanced solutions and real competitive advantages. One trend that emerged in the study is the shift from shippers using single-mode providers to using flexible solutions to utilize the most cost-effective method of moving freight.
As the trucking industry adjusts to implement new technologies to comply with regulations, it's expected to lose more drivers and even more capacity. While intermodal and rail transportation were once considered slow and unpredictable, the modes can now be defined by reliability and safety.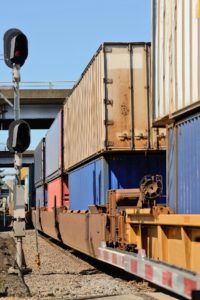 58% of shippers indicated they are increasing their use of outsourced logistics services in 2017. The most frequently outsourced activities are domestic transportation (86%), warehousing (66%), freight forwarding (44%) and customs brokerage (42%).
To optimize the supply chain and efficiently move freight, the industry has seen growth in mode variance. 3PLs are using data collection and analysis to determine the best shipment method for clients. 62% of 3PLs said that over the past 2-3 years, their clients showed interest in changing their use of various modes of transportation. Consequently, only 21% of shippers said they only work with single-mode providers.
Cost may have a huge factor in this decision change, as 38% of 3PLs say that their clients are most concerned with the shortest shipping time, but 77% of shippers want the lowest cost.
Over-the-road (OTR) transportation provides flexible shipment options – there's a wide variety of trailers, shipments can be loaded/unloaded quickly and freight can be hauled to almost any end-destination. But, OTR is typically more expensive for long haul freight moves than rail. With trucks, there are specific permits, based on freight and weight restrictions, which can make freight moves on specific lanes more challenging. Trucks are also more frequently impacted by weather-related disruptions and traffic. Although rail is slower than OTR transportation, it often comes at a lower price point. Rail has gained a positive reputation for on-time performance, and Class-1 railroads offer technology to track shipments.
Since industry experts are predicting more freight tonnage this year, shippers can turn to alternative modes to move goods to initiative consistency and contain costs. 3PL's technology, reporting, and visibility will improve service and compliment a transportation strategy, and the effects of that are starting to be seen industry-wide. 71% of shippers said that real-time analysis from 3PLs helps them better understand shipping alternatives, and 61% valued 3PLs assessments of trade lanes and origin-destination pairs in terms of cost and service.
Related PLS Logistics blogs:
‍