Summer is just around the corner, and so is the most disruptive week in the trucking industry: the International Roadcheck 2019. The Commercial Vehicle Safety Alliance (CVSA) blitz is the largest inspection on the commercial motor vehicles in North America. This year, a 72-hour truck review will take place from June 4 – 6.
How does International Roadcheck 2019 work?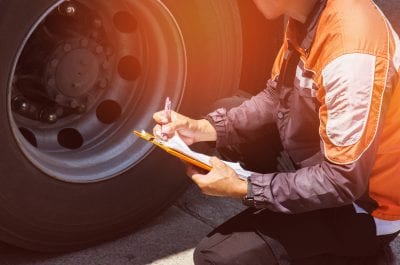 Starting on June 4, inspectors all over North America will execute numerous road inspections to define the violations and equipment malfunctions according to the North American Standard Level I Inspection. Each year, thousands of drivers and carriers are placed out of service because of the blitz. CVSA focuses on a different category of violation during each yearly inspection. In 2019, the theme of inspection is steering and suspension systems.
"Steering and suspension are safety critical systems for any commercial motor vehicle. Not only do they support the heavy loads carried by trucks and buses, but they also help maintain stability and control under acceleration and braking, keeping the vehicle safely on the road. Furthermore, they keep tires in alignment, reducing chances of uneven tire wear and possible tire failure, and they maximize the contact between the tires and the road to provide steering stability and good handling," – CVSA President Chief Jay Thompson commented on the topic of inspection.
Interesting Facts
In 2018, more than 67,000 inspections over drivers and commercial vehicles were conducted on the roads. As a result, 11,910 vehicles (21.6 percent) and 2,666 drivers (3.9 percent) were placed out of service.
This year, the Commercial Vehicle Safety Alliance is planning to inspect an average of 17 commercial vehicles per minute.
Along with the main focus of this year's road check, inspectors will check vehicles on fuel systems, driver's seat, steering mechanisms, brake systems, and more. Drivers will also be checked for alcohol & drug impairment, and fatigue.
Hopefully, this gives you some insights for what to expect, so you can be fully prepared to pass the inspection.
‍