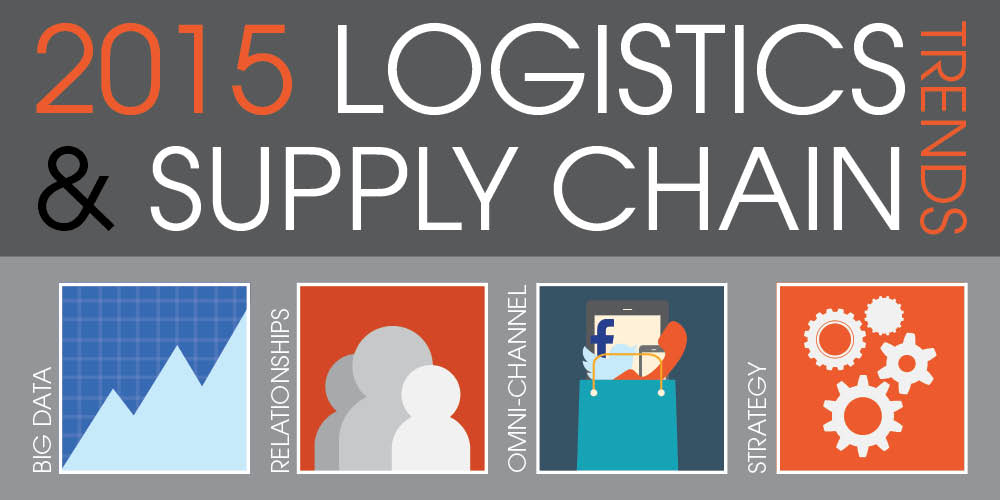 The New Year is quickly approaching, which means new challenges and opportunities can be anticipated; specifically in the supply chain and logistics industry.
The predicted trends for 2015 include everything from optimizing Big Data to maintaining relationships and updating strategies. Overall, supply chains have to prioritize objectives to make the most of planning and logistics. With technological advancements and evolution of omni-channel retailing, 3PLs and shippers can have an optimistic outlook as they collaborate on innovative developments in the upcoming year.
Relationships
3PLs have the challenge and opportunity to provide shippers with improvements, experiences and references. Shippers are confident working with 3PLs, because of proven cost reduction in logistics and inventory. Shippers are looking for capacity, high-level service and predictable costs.
Shippers are willing to collaborate with 3PLs and optimize their relationships in order to gain seamless transportation, insights from other industries and recommendations in best performance. Shippers want to keep costs low and stay competitive in their industry, providing value and ROI to their customers, which they can enhance through their 3PL partner. Big Data fuels innovation and adds value to the shipper-3PL relationship.
Big Data
3PLs can invest in Big Data for functional and strategic capabilities. Big Data can predict demand, shape demand or change demand. According to one study, 3PLs and shippers feel strongly that improved, data-driven decision-making is essential to the future success of their supply chain activities.
Early adopters of Big Data will have a competitive advantage.When a 3PL utilizes Big Data, they can offer shippers better information versus simply addressing their bottom line. Together, 3PLs and shippers can customize and develop solutions to effectively manage the supply chain.
Omni-Channel
Omni-channel, where goods can be pulled from any source to fulfill orders and make the shopping experience seamless for connected customers, is an explosive trend for the upcoming year. 3PLs must form omni-channel strategies to support the challenges associated with the customer-driven supply chain.
By determining the most cost-effective transportation choice, highlighting inventory management records and using Big Data to infer demand, 3PLs can maximize the effectiveness of an omni-channel supply chain.
Organizational Alignment and Strategy
An organization's overall strategy allows for better development of systems and processes to ensure an efficient and streamlined logistics function. Internally, departmental relationships should be improved, from marketing to IT, and from sales to finance. Better communication and organizational alignment creates a measurable impact on the business that true value is being delivered promptly.
Supply chain leaders will have to enhance growing inventory, improve customer service, recognize the role of Big Data, establish forecast accuracy and identify the most proficient way to fulfill orders.
3PLs can add value to your transportation needs and help your company create operational excellence. Contact PLS today to discuss your 2015 supply chain initiatives and challenges.
‍