Industrial distributors are beginning to see the potential of proper transportation management, how it can add much-needed value throughout their supply chain, and how it can address some of their toughest challenges. The challenges distributors face are unique, but the effects of these challenges are representative of the difficulties many are having in the broader industrial sector – restricted supply, plummeting demand, dropping revenues and out of control operating costs.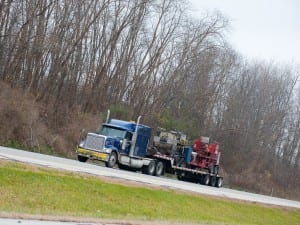 Many distributors have yet to address problems in transportation because it is seemingly unrelated to some of their biggest obstacles. There are 4 main challenges that distributors face:
Lagging Technology. Distributors struggle to provide real-time product availability and inventory status, which customers are demanding more and more, leading to a poorer quality of service. On top of this, many manufacturers are now offering free configurators, which allow customers to develop their own custom product specifications without going to the distributor first, creating a shrinking customer base.
Customer Growth. Distributors' customers are growing as a result of mergers and consolidation. These large customers use their size as leverage to demand more services, faster movement of goods through the supply chain, and lower prices, all at the same time. This strains distributors' day to day operations.
Supplier Expectations. Manufacturers typically require distributors to have some form of a volume-purchasing agreement, which forces distributors to buy a lot of product at once. With demand as low as it is, volume-purchasing agreements cause them to have far more stock than they need. This creates difficulty with inventory management, slowing the flow of goods through the supply chain and reducing product visibility.
Differentiation. When competitors like Amazon enter the picture, it can be difficult to stand out. Amazon can provide lower prices and convenient online experience, so industrial distributors must differentiate themselves in some way to retain value with their customers. Not only do they have to differentiate themselves from Amazon, but they must prove their value over other distributors within the same vertical.
Many industrial distributors focus on that last point – differentiation. If they can provide a superior level of service, in a way that others can't, they will be able to continue providing value to their customers, who will be less inclined to use Amazon's services or work directly with a manufacturer.
Some distributors are expanding the services they provide up and down the supply chain, which is one effective way of differentiating yourself, but one simpler often overlooked aspect is proper transportation management.
When transportation is managed effectively, operating costs are reduced, the flow of products through the supply chain is quicker, product visibility is improved, inventory management is more efficient, and overall customer service levels are improved significantly. Providing a high level of service to customers is one way to differentiate from other distributors.
There are 3 things distributors need to provide superior service levels through transportation management:
Robust TMS. Industrial distributors need a powerful TMS with the ability to integrate with current systems. This allows them to book loads quickly based on cost and speed. It also provides visibility into freight and product movement, providing a crucial piece of the puzzle for an end to end visibility in the supply chain. Most TMS software provides real-time, instant shipment status notifications along with detailed historical reports for transportation optimization.
Scalability. Demand fluctuates constantly for distributors. They often hire the help of 3PLs to combat this issue. 3PLs bring a large carrier network and pricing structure that can scale up and down to fit the needs of a distributor. For those industrial distributors who own private fleets, 3PLs can add surge capacity in good economic times, and help increase the productivity of the fleet in bad economic times.
Cost Reduction Strategy. Industrial distributors need a strategy to reduce transportation costs that is informed by information from a TMS. By focusing on a few particular points of transportation, such as inbound freight movement and average dwell time, distributors can reduce costs in some of the most expensive parts of transportation and more efficiently begin tackling overall freight costs. Low freight costs mean lower operating costs, which can lead to increased revenue and product value, and even reduced prices for customers.
Transportation is an untapped source of cost savings and superior service potential. With proper management of freight movement, industrial distributors can provide value to their customers and remain competitive within their vertical by providing superior service levels.
Want to learn more? Continue reading: Market Update: Industrial Distributors Have Serious Service Issues.
‍