When it comes to shipping hazardous materials, safety is key. Hazardous freight is sensitive to external influences and can be very dangerous, so preparing and shipping hazardous materials requires thorough planning, careful approach, and responsible execution. It is your responsibility as a shipper to properly pack and classify the goods.
It can become challenging to learn all the intricacies of the shipping process and to comply with regulations, however, understanding the basics of hazmat shipping is essential to safely transport goods.
How to ship hazmat?
Classification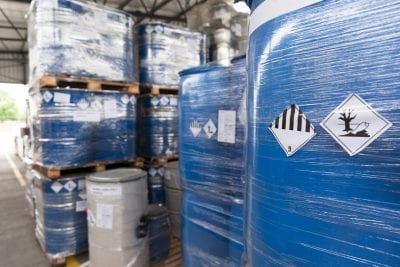 The first, essential step in hazmat shipping is finding your items on the classification table. Properly classifying your goods is a must, since the rest of the shipping process depends on it.
How to determine your hazard class?
First, check the Safety Data Sheet (SDS). The majority of certified manufacturers and vendors provide SDS with the materials. This document already contains the correct hazard classification, a four-digit ID code, and other useful information on the shipment.
Once you have looked through SDS, you will need to use the Hazard Material Table to determine the classification. In the table, you will find all the required additional information, such as packing materials, labels, additional provisions, etc. Also, some types of hazmat, like explosives, require PHMSA's endorsement of the classification type before the shipment.
Packaging and labeling
After classifying your hazardous materials, you will obtain a packaging section for your specific type of shipment. For your convenience, PHMSA has developed a guide for understanding the packaging types. You should comply with the regulations and follow the instructions when packaging your goods. After properly securing the shipment, it is critical to attach the right label. You may also need to attach a shipping paper with all the shipment information mentioned.
Shipping
After your freight is packaged, labeled, and documentation is prepared, you can book a shipment with a reliable transportation partner who knows the specifics of hazmat shipping. Communicate all the shipping details with your carrier or shipping company to make sure everything is fine.
‍