The loading dock is the access point for shipping and receiving. Well-designed loading dock procedures minimize delays, reduce damage to cargo and optimize productivity.
Here are 3 quick ways to improve loading dock processes:
Enhance Dock Safety
Loading and unloading trailers present safety risks for operators, attendants, drivers, and employees. Injuries on loading docks account for 25% of all reported injuries within supply chain facilities, according to Material Handling and Logistics.
In order to increase productivity and reduce injury at the loading dock, follow these tips:
Examine safety before someone gets hurt and evaluate security at the facility.
Create a maintenance schedule. Dock levelers, lights, seals and overhead doors should be tested regularly to ensure reliability.
Keep docks dry. Water on the loading dock creates a dangerous situation.
Upgrade equipment and replace equipment as necessary.
Eliminate Bottlenecks
Bottlenecks occur when the flow of goods from the warehouse or distribution center is slowed on its way to the customer. Often, inbound material comes faster than can be unloaded, or products and equipment aren't properly labeled, creating delays.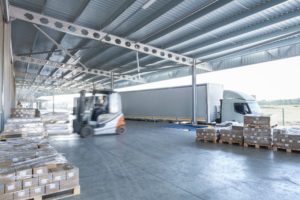 Identify any bottlenecks in your supply chain to avoid employee stress, wasted costs, delayed shipments, and unhappy customers. Long wait times and piles of papers are common bottlenecks.
When bottlenecks are identified and effective solutions are applied, companies see a major improvement in inventory management and load times, which in turn reduces detention charges and improves shipper status.
Take Advantage of Technology
Dock management systems and transportation management systems help identify problems inside and outside the facility by using RFID and GPS technology to track the movement of every trailer.
This results in real-time performance reports and the opportunity to reduce delays, improve staffing and better utilize the equipment. These systems capture dock status, an average length of a driver's haul and loads built by the hour. These metrics help you make the best use of your driver's time.
Maximize the efficiency of loading and unloading at the dock with safer operations, more technology, and fewer bottlenecks.
Related PLS blogs:
‍