Supply chain management is a set of activities that includes supply, production, and distribution of a company's goods. This production cycle plays an enormous role in any business. Proper supply chain management can reduce transportation costs and enhance productivity, and in order to succeed, companies should learn how supply chain management works.
What processes does supply chain management include?
A supply chain process can be described as a simple example: imagine a cake. First, raw eggs are transported from the farm to the grocery retailer. Then, the eggs are bought by a bakery to bake a cake. The cake is then either set out in the bakery or delivered to a grocery store to be sold to the final customer. All of the processes that stand in-between the raw egg and shelve-ready cake are classified as a supply chain.
So, how does supply chain management work? As a first look, the process can seem very complicated. However, supply chain contain many important key components that make it work properly.
What are the core components of supply chain management?
Transportation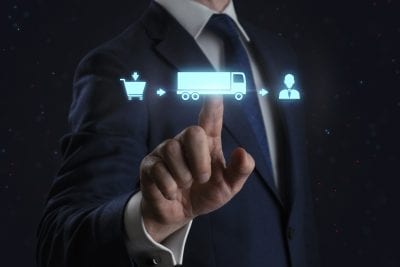 Essentially, transportation is one of the main components that make the supply chain work. Transportation plays a crucial role in every step of product movement, allowing companies to focus on arranging well-organized, smooth logistics for their goods.
Communication and visibility
Supply chains are different in every industry. No matter if it's a small local business or a large enterprise, supply chain management is a complex process. With so many links involved, it requires proper handling. Without efficient communication between manufacturers, suppliers, vendors, distributors, and retailers, supply chains would fall apart in no time. That's why consistent communication between all parties is crucial for efficient supply chain management. Another essential part of a successful production cycle is visibility into the supply chain. That means you can easily access and analyze all the needed information to make strategic decisions.
Finance
A complex supply chain suggests high financial responsibility. Bills, invoices, and reports are key points you can't run production without. Accounting plays a large role in supply chain management since all of the payments have to be documented and stored in a proper way.
Final thoughts
Of course, supply chain management involves numerous other activities and processes. However, the above listed are the primary parts of any supply chain. Today, companies constantly work to enhance their efficiency by applying various supply chain management practices and technologies. With more innovations and automation, it becomes easier to focus on the strategic part of the supply chain management than on its execution.
Learn more about our Supply Chain Management services!
‍