Have you ever wondered about how the product you buy from a store ended up there? The complexities of a supply chain and the steps for moving freight to its end location are often overlooked. But, for manufacturers, suppliers, and retailers, logistics is a top priority to business operations. Accurately planning for efficient transportation routes and potential delays comes with many challenges, which is why many shippers turn to a freight broker to ship goods.
What is a freight broker?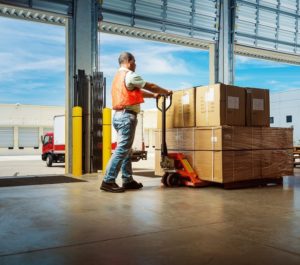 Shippers should focus on one thing: the product. A freight broker is needed to move goods while the shipper focuses on their core competency. A freight broker matches shippers with transportation services in order to move freight from its origin to its destination. You can think of a freight broker as the middle man – connecting the shipper to a carrier and executing the freight move at the best rate. Freight brokers are well-versed in the latest trends and prices, plus have access to technology and a large network of carriers to make moving freight as efficient as possible.
What is a spot shipment?

Shippers will broadcast a load to a freight broker in order to find capacity at a low rate. Sourcing your loads to a single freight broker shows carriers your freight demand, enabling them to properly bid and commit to moving your freight. One advantage to using the spot market is to contain costs and reduce backlogs of shipping.
What are spot rates?
Spot rates refer to the price quoted for immediate settlement on a commodity and is based on the value of the product. Spot rates change frequently, so shippers have little control of their budgeting process for transactional transportation movement.
What is Managed Transportation?
Managed transportation services include a wider scope of service offerings from a 3PL. Managed transportation includes integration and access to a transportation management system and the option to have a logistics expert to help operate and monitor the data the technology provides. With managed transportation, shippers gain customized reports, effective operations and time savings.
Read More: Capabilities and Benefits of Shipment Tracking
Request Freight Assessment
‍