Last mile logistics refers to the movement of goods from a warehouse or distribution center to its final destination. To create customer loyalty, the last leg of transportation needs to be flawless.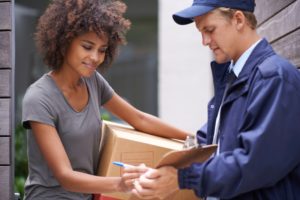 The last mile of delivery, including returns, form a consumer's shopping habits more than ever before. As a consumer, your primary concerns are delivery costs and schedules. 93% of shoppers have taken some type of action while shopping online to qualify for free shipping, and 58% of shoppers have abandoned their virtual shopping carts because shipping costs were higher than expected.
The last mile presents a unique set of challenges in the supply chain. The final delivery is increasingly difficult for retailers to manage. The last mile can account for up to 50% of the total logistics costs on a shipment and 28% of the total delivery cost.
Challenges to Last Mile
For retailers, control over the last mile gives you a competitive advantage. Some of the biggest problems with last mile delivery include facility location, delivery distance, time allotment and traffic.
Some retailers don't have close proximity to their customers because their DCs aren't located in highly populated areas. Without the right number of facilities in the right places, travel time increases.
Traffic is a factor, especially in more congested locations. Traffic should be accounted for on top of distance, because it could cause serious delays.
The promise of delivery made between the retailer and the buyer depend heavily on carrier capacity and driver availability. The last mile is especially challenging for carriers; it's difficult to make deliveries on narrow roads in congested regions.
Delivery is compounded by practical issues and doesn't always reach the consumer on the first try – an invalid address, residents who aren't home and can't sign off for package, and/or a lack of parking can result in consumer dissatisfaction.
The last thing consumers want is to have a product arrive late or damaged.
Solutions to Last Mile
A solution for creating a great last mile experience is to hire a 3PL provider to manage the logistics process. 3PLs offer communication, expertise, scale and technology that allows automation of shipments and billing.
Shippers discover the most success in last mile when they incorporate a transportation management system (TMS). A TMS works with e-commerce's unique challenges; it uses your preferred carriers but also has a reliable back up network, chooses the best mode and route at the best price, and includes a monthly analysis so that shippers can determine how to better optimize their deliveries.
Shipment tracking through a TMS is a major advantage for last mile logistics. Understanding the delivery schedule, its route and any disruptions can ensure a great customer experience. 3PLs create time and cost related savings, which shippers can pass to their own customers.
Last mile retail shippers have to optimize their entire supply chain to find success in the last mile. Partnering with a 3PL prevents disruptions and encourages real-time communication so that you can deliver on-time, every time.
How Transportation Benefits from Big Data
Keep Reading: Parcel Shippers, You'll Pay More if You Don't Take these 3 Steps
‍