Working in the food industry is incredibly exciting and diverse, however, it can be a very complex sector. Food supply chains involve an endless number of processes, and unraveling them is quite a challenge. Especially, food and beverage shipping.
The food and beverage sector is tightly connected with logistics and transportation. People are constantly searching for food items and fresh produce at stores all across the world. This means that the demand for fast and reliable food shipping is higher than ever.
Apart from time sensitivity, food supplies are extremely sensitive to spoiling. Perished products can easily lead to food poisoning and other effects of eating spoiled meals. Apart from money losses, departed products can get companies in huge trouble. Food suppliers and retailers have to constantly ensure security, quality, and authenticity of products. Food scams are estimated to be a $40 billion annual issue (let's not forget the Horsemeat scandal). This means that strict administration of product quality at every stage of transit is critical. Handling safe transportation of food from the farm to the shelf requires rock-solid control.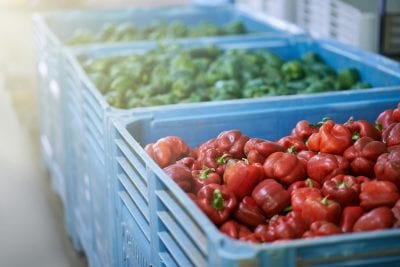 Food retailers face numerous challenges while doing their job and have a large responsibility to meet the highest quality standards. Well-planned transportation helps to avoid these damage disruptions.
Here are the main challenges of food and beverage supply chains:
Trace-ability and visibility
One of the major undertakings in food supply chains is the ability to track and trace the location and condition of products. More and more customers pay attention to the product origin country, eco-labels, and other signs that increase visibility and guarantee authenticity. For example, the survey by the Marine Stewardship Council conducted that 66 percent of respondents consider trace-ability a primary factor in seafood purchase decisions.
Communication within the supply chain
Arranging efficient communication and collaboration in food and beverage retail is very complex. Primarily, because of the fragmented nature of the supply chain. With so many parties involved, it's hard to set a linear string of communication, because many suppliers and food producers are located around the globe. If possible, it's better to narrow down your suppliers' list to those you can really trust. This will benefit both your company and your consumers. Additionally, you can use new technologies for strict product monitoring and auditing to avoid any disruptions.
Quality control and maintenance
Surely, with all the links involved in the chain, it's important to ensure a smooth, well-organized, fast delivery. While many cases of food perishing takes place because of late delivery, other causes can include poor storage conditions, messy warehousing and inventory that affects the product quality. That's why strict tracking of product condition is crucial for eliminating supply chain disruptions.
How can logistics companies help?
Since food supply chains are very complex, many companies outsource their logistics operations. Third-party logistics companies have experience in the industry, and can efficiently manage your transportation. Especially when it comes to shipment tracking, 3PLs step into the game with their capable resources for tracking and tracing your loads. Additionally, 3PLs can arrange smooth communication and execute tedious manual operations for you.
PLS Logistics Food and Beverage Shipping
Looking for food supply chain solutions? Learn more about our Food & Beverage shipping services today!
‍