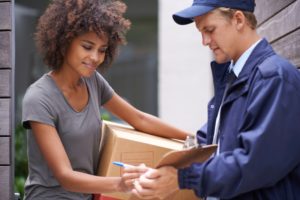 Understanding Last Mile Logistics
Last mile logistics refers to the outbound transportation from a fulfillment or distribution center to the final delivery at the customer's door. The last mile is the top priority for retail brands but is also the most expensive, least efficient and most challenging part of the delivery process.
The e-commerce consumer market is growing; eMarketer forecasts that global B2C e-commerce will reach $2.3 trillion by 2017. With more shoppers comes increased need for quick fulfillment, generating further attention to the last mile.
With last-mile logistics, retailers have the opportunity to obtain loyal, lifelong customers or risk dissatisfying them and damaging its reputation. 62% of consumers are less likely to shop with a retailer if an item wasn't delivered within the two days of the promised delivery date. According to Todd Everett, it's also critical to pay attention to the last mile's return process. Return policies can drive more business. He says, "If the consumer doesn't have a convenient and enjoyable returns experience, they probably aren't going to buy from that retailer again."
Read Reverse Logistics: Everything You Need to Know
Retailers are under pressure to manage inventory and provide structured delivery in terms of speed, rate, service, and quality.
Technology is shaping retail's supply chain world. Only 21% of retailers said they are more confident than one year ago in their ability to delivery omnichannel experiences. Zappos and Amazon lead the way in terms of consumer expectations on delivery and return policies. Amazon, for example, controls its last mile logistics by operating out of massive distribution centers, with robotic technology, and owns a private fleet for deliveries. This strategy permits Amazon to be flexible to consumer needs and reduce costs.
Why Are Retailers Struggling with the Last Mile?
The last mile is a fundamental logistics step and is exceedingly difficult to manage. For success in the last mile, retail shippers should evaluate their fulfillment rules and distribution processes. The last mile is typically the least effective piece of the transportation process and contributes as much as 28% of the total transportation cost. The last mile is expensive because:
It can be difficult to reach the customer
Consumers aren't home when the delivery arrives
The likelihood of returns
High costs associated with driving around.
Read: E-Commerce Changes Traditional Retail Shipping Strategies
How to Master Last Mile Logistics
Retailers have to find the right mix to master their last mile, omnichannel approach. The secret behind successful strategies is delivering to the customer what they want. Visibility, control, flexibility, and collaboration are the key qualities for a successful last mile logistics strategy.
Creating visibility permits retailers to fulfill, forecast and trace product shipments proficiently and in real-time.  Formulating shipping options enables customers to choose the selection that fits their need in that exact moment. When customers decide where to shop, shipping flexibility is an essential feature.
A responsive last mile strategy enables retailers to meet demand, efficiently manage shipping options and maintain inventory. Technology creates efficiency – automating processes and rules like carrier selection, track and trace features, and lane analysis – save time and money. Streamlining transportation initiatives with a TMS is the best way to overcome the challenge of last mile logistics.
More consumers are moving online to get their shopping done. For retailers, optimizing the supply chain, specifically the last mile logistics, will provide opportunities to increase business revenue and bring customers back.
Read: Keys to Omni-Channel Success
Learn more about our Retail Logistics services!
Request Freight Assessment