A Look into 2019 Logistics
2018 has brought some major changes to the logistics industry. We can expect to see a continued focus on technology and innovations, which will bring the most significant changes in the upcoming year.
The Influence of Big Data Will Grow
Companies try to incorporate IT resources into their supply chain to increase productivity, efficiency, and safety, and this trend will continue to grow in 2019. Technology allows small and midsize businesses to compete with larger players and take their performance to the next level. Apart from blockchain, big data is estimated to play the most significant role in improving logistics and supply chain management. The deployment of big data and data-centered innovations like IoT has already gained significant popularity within the industry. Data analysis and proper interpretation enable logistics managers to figure out gaps in the supply chain and implement working strategies to boost the company's performance. Big data deployment is a huge step towards reaching freight visibility and understanding how to eliminate waste from the supply chain. In combination with IoT, it allows companies to track and analyze freight conditions, truck characteristics and other important measures that impact transportation. The experts forecast almost a three times growth in connected devices usage from 2018 and estimate it to reach 75 billion. This means the Internet of Things and big data will become game changers in the logistics industry in 2019. Apart from big data and IoT, other technology like blockchain and AI will also invade the transportation industry.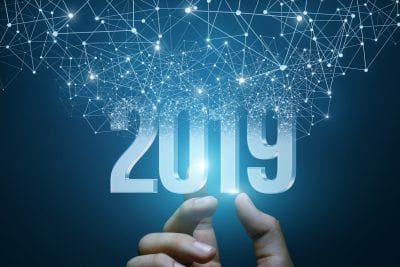 The Driver Shortage and Capacity C May Become a Permanent Problem
In 2018, there has been a lot of talk about the capacity crunch and issue of the driver shortage. There's no wonder that shortage problem is still in effect as the demand for drivers increases and the core of trucking workforce plans to retire in 10-15 years. According to the World Bank of Data, the United States' import and export traffic almost doubled between the years 2000 and 2016, but the number of truck drivers didn't. As the global economy is growing faster, the problem of the shortage will become permanent despite the fact that solutions are coming to help. Driverless trucks and new technology for route optimization will roll into 2019 to eliminate the pain from the capacity crunch and shortage.
Improved Payment Systems and Cybersecurity
In the new age of digitalization, logistics companies need to provide more flexibility and transparency into payment systems. Blockchain technology and the usage of cryptocurrency lets companies simplify the process of sending and receiving payments and provide protection for online transactions. Increased attention to cybersecurity is another predicted trend in the industry for 2019. As digitalization continues to affect various industries and businesses, it is especially important for logistics and transportation companies to steer towards increased safety of their databases and websites. The devastating ransomware in Maersk in 2017 has shown that even industry giants are in jeopardy of cyber attacks.
Consolidation Among Companies
Competition between companies becomes fiercer every year. In 2018, many shipping giants have joined forces and formed the alliances, and the rate of consolidation will be even higher in throughout 2019. The trend of consolidation is especially popular among ocean shipping companies. For instance, A.P. Moller Maersk, CMA CGM, Hapag-Lloyd, MSC and Ocean Network Express (ONE) recently confirmed their plan to set a global association. The main point of merging is to balance prices on the market and let smaller businesses operate.
To sum it up, 2019 will be a year full of technology and optimization. Improved supply chain and inventory management, data analysis, technology, better freight visibility and a focus on cybersecurity will be the main game changers in the logistics industry.
‍