A substantial amount of over-the-road freight transportation is handled by freight brokers.  A freight broker is a person or company that brings together a shipper (with freight to move) and a qualified carrier (who has the capacity to move the freight).
Nothing New! Freight brokers have been around the transportation industry since the 1900s. But before the '70s, regulations governing brokers were so restrictive that few firms employed the intermediary.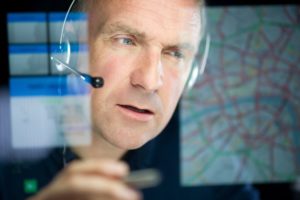 The Bond. All freight brokers are required to have a $75,000 surety bond or trust fund. If a freight broker does not live up to the contract with a shipper or carrier, the bond assures that the broker has the cash or assets to cover the amount.
Reliable Capacity with Qualified Carriers. A freight broker assists you, the shipper, in finding a dependable motor carrier that you might have otherwise overlooked.
The Truth about Rates. Shippers pay a fee to use a freight broker's services, but the end price is almost always lower than if you had arranged the transportation yourself. Brokers can find the best price because of their access to a broad carrier network.
Communication is Key. What are your needs? Be direct with the broker about when freight can be loaded, your price range and how to notify you with any disruption.
Not A Forwarder. A freight forwarder takes possession of goods and consolidates smaller shipments into a larger shipment, then arranges for transportation.
Becoming a Regular. As a shipper, you can utilize a freight broker for regular lanes or specialized freight. A broker can find private carriers covering the lane to make your delivery faster and safer. A broker can obtain specific equipment needed to ship your freight.
Non-Asset Brokers Advantage. Non-asset brokers have immediate access to many carriers and trucks. Non-asset brokers are more cost-effective since their focus is to find you the best rate and judgment isn't clouded by specific ownership of the truck.
Continue Reading: A Comprehensive Guide to Completing a BOL, Tips for Shippers New to LTL Freight, Causes and Effects of Demurrage
Request Freight Assessment
Facebook
‍