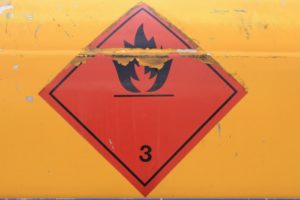 Hazardous materials are substances that the Department of Transportation (DOT) has determined are capable of posing an unreasonable risk to health, safety or property when transported.
There is an assortment of items that can be listed as dangerous: batteries, lithium tanks, magnets, dry ice, bleach, and perfume. There are 9 classes of dangerous materials:
Explosives
Gasses
Flammable liquids
Flammable solids
Oxidizing substances
Toxic and infectious substances
Radioactive material
Corrosives
Misc.
Hazardous materials regulations are in Subtitle B, Chapter 1 in the Code of Federal Regulations (CFR) Title 49, set by DOT. It lists more than 3,600 items as dangerous goods.
According to a DOT report, about 2.6 billion tons of hazardous materials were shipped in 2012. About 60% moved by truck, 24% by pipeline, 11% by water and 4% by rail.
To safely ship hazardous materials, employees need to understand effective processes and compliance rules. There are penalties for violating applicable regulations. Some of the major responsibilities of hazmat shippers include identifying the hazardous product, its class, and division, creating a warning label, and packaging the product properly.
Inbound Logistics reports that more changes to battery shipping are coming, as the US must align with ICAO rules in early 2017. The ICAO will implement new lithium battery markings in 2017, and create new requirements to mark packages containing batteries in equipment when more than two packages are in the shipment. (Read: Product Recalls Disrupting Your Supply Chain)
Drivers should be trained to carry hazardous materials. Transport Topics reports that a driver should understand the bill of lading when picking up a hazardous shipment, understand the type of hazard and the level of danger associated with the freight.
Continue Reading:
Request Freight Assessment
‍