Wal-Mart Testing Grocery Delivery + Drones.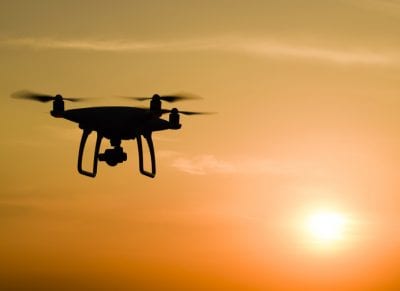 To compete with Amazon, Wal-Mart stores are testing a grocery-delivery service with Uber (in the Phoenix market) and Lyft (in the Denver market). Once a customer places a grocery order online, it will be filled and packaged by employees, then sent in an Uber or Lyft to the customer's location. The retailer is also testing drone use at its warehouses. Drones capture real-time images and spot missing inventory. A drone can complete this task in about 1 day, but it would take a full month if done manually.
Volvo Concept Truck to Change Long-Haul Operations. Volvo developed a new concept vehicle that cuts fuel consumption by more than 30%. One of the key factors behind the low fuel consumption is its incredible 40% improvement in aerodynamic efficiency that has benefited both the tractor and trailer. The aim is to improve the efficiency of long-haul truck transportation by 50%.
Supply Chains as a Growth Weapon. A Bloomberg article explores new warehouse development across the country, created so companies can get their goods to customers as fast as possible. The demand for warehouse space is generated by e-commerce and is increasing warehouse rent payments by 9.9% across the US.
Shoppers Buying More Online, but Want to Keep Stores. According to a UPS study, 45% of e-commerce shoppers love the thrill of hunting for and finding great deals online, but say physical stores add to their experience. In the study's five-year history, this is the first time more than 50% of all purchases made by respondents are made online.
Staples Added to the List of Same-Day Delivery Retailers. Staples announced it will be rolling out its own same-day delivery service, Staples Rush, to major US cities. Staples will own its delivery fleet and the standard $9.95 online ordering fee will still apply to orders under $49. For Staples Rush, the $9.95 is in addition to $14.99 same-day delivery charge.
Automated Material Handling Equipment to Approach $45Bn by 2022. According to analysis firm Research and Markets, automated material handling equipment market growth is propelled by increasing demand for automated solutions, advancements in technology, the need to ensure a safe working environment and reduction in labor cost through robotics.