You've heard about the fascinating achievements in 3D printing. Printers can now create customized apparel, personalized make-up and can even be used in medicine. As 3D printing becomes more integrated into manufacturing, it is easy to conclude that logistics should be influenced as well. Has the adjustment process already started?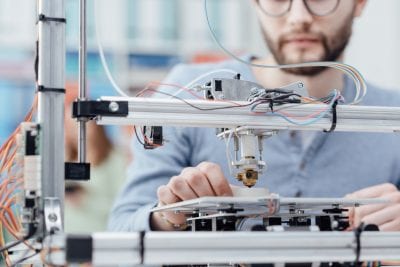 The number of materials that can be used in 3D printing, or additive manufacturing, is growing, and so is the capability of 3D printing hardware. From detailed, customized hearing aid shells to pepperoni pizza for astronauts, 3D printers gradually achieve greater precision and finer resolution at lower costs.
Economists have labeled additive manufacturing the third industrial revolution. All of these advances have brought additive manufacturing to a turning point. In the near future, 3D printing could make massive changes to manufacturing processes and logistics functions:
Global Logistics: As the cost of international logistics continues to rise, and 3D printing technology becomes more affordable, manufacturers may shift their facilities back to the USA.. Reducing amounts of overseas manufacturing will decrease the quantity of air and ocean freight, as well as demand for international logistics brokers.
Inventory Levels: Additive manufacturing finds its main value in creating customer-specific, complex items. Products are made only when ordered, which means inventory levels will fall and be reduced in warehouses. Since there won't be a need for high volume production facilities and workers, part of the supply chain will become superfluous.
Fulfillment: The made-to-order strategy will also influence the fulfillment process and the role of the retailer. In fact, the entire manufacturer-wholesaler-retailer relationship will change. Since retailers do not need to keep stock of their own, orders can be fulfilled directly through the manufacturer.
Stock Location: With 3D printers, service parts for machinery, cars or medical equipment could be produced in a very short time by downloading the design of spare parts and printing them. This will help save costs that are wasted on holding stock of supply products and eliminate a large number of warehouses and stock locations.
Transportation Routes: 3D printers, is situated close to end users or strategic markets, will help reduce transportation costs greatly. It will also shorten the length of the supply chain and reduce the negative impact on the environment. Imagine the difference: getting an item's design online and printing it within a couple hours. Local 3D manufacturing centers enable shippers to deliver faster, so there won't be delays due to bad weather or transportation failures.
Consumer Relationships: The way a consumer relates to companies will continue to evolve with more personalization and fewer mediators. Personalized apparel, furniture, and even vehicles will be created and purchased in stores or online. If customers own 3D printers at home, personal products like shoes and cosmetics will be sold online and printed at home. Such changes will help meet customer demand and reduce the cost of doing business.
However, with such rapid development and numerous achievements, 3D printing won't necessarily bring an end to traditional manufacturing and the modern supply chain. Assembly line production is essential for numerous specialized items. Additive manufacturing is ideal for personalized and complex production, but it cannot keep up with mass production. Traditional manufacturing processes are cheaper, faster and require less labor. Even if 3D printing changes manufacturing, raw materials and food still need to be produced and transported traditionally. These are principal properties 3D printing cannot replace – at least in the near future.
Continue Reading, 2015 Industry Expectations .
‍