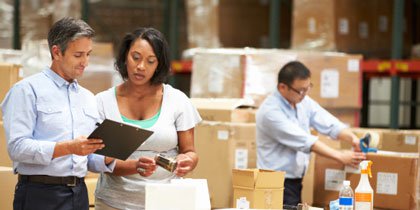 Implementing an operative supply chain management strategy is essential to efficiently transfer products throughout your supply chain.
Customers demand their products quickly, and if your supply chain is inefficient shippers won't be able to fulfill demand.
Having a proper SCM strategy can complement and support business strategy, drive down operational costs, maximize efficiencies, strengthen supply chain partnerships, and provide clear purpose to achieve goals.
Here are 5 best practices for supply chain management strategy:
Align Supply Chain Responsibilities: In many companies, decision making power is divided which slows down operations. When this power is divided among so many people, each individual loses control of the supply chain and a high amount of communication is needed to make any decision quickly and accurately. Often, communication is absent. To advance communications, executive management, like the CFO should oversee supply chain decisions. CFOs often have the potential to heavily influence decision making, but don't take the opportunity. With executive leadership involved in the supply chain, he or she can help consolidate the power division that slows down decision making.
Collaborate Internally and Externally: Internally, everyone should be on the same page and focused on the same goals. Real-time communication will help make supply chain decisions quicker and more accurate; it will also help mitigate supply chain disruptions. External collaboration is just as important. Having a trustworthy supply chain partner proves invaluable. Often, companies share technology and information if their supply chains are dependent on one another. For example, a manufacturer may implement a formal supplier management strategy in order to better collaborate with their supplier. In this way, both businesses benefit.
Take Full Advantage of Technology: The right technology will speed up supply chain operations and maximize efficiencies. Find software that's right for your company and has the features that are critical to your business. One of the main benefits of properly implementing technology is end-to-end supply chain visibility. You must be able to see into your operations processes before you can identify inefficiencies and implement changes. Once supply chain visibility is achieved, decisions can be made quickly and surprise disruptions can be avoided.
Put Value Over Price: Providing a valuable service, rather than cutting costs at every point of the supply chain, will be better for long-term business goals. It may be difficult to get company leadership on board with this idea, but putting value over price will satisfy your customers, keep business flowing smoothly, and make you a reliable supply chain partner. In the long run, the value added will trump the initial cost savings.
Take "Green" Initiatives Seriously: Consumers take environmental impact into consideration when purchasing goods. No matter what industry you're in, if you take social responsibility seriously, suppliers and buyers will notice. Shippers, carriers, and 3PLs can join a program sponsored by the EPA called the SmartWay Partnership. PLS Logistics is a member of this program and has been able to significantly reduce shippers' and carriers' carbon footprints, all while saving them money.
Learn more about our supply chain management services and contact us for the supply chain advice!
Download Logistics Management Best Practices whitepaper.
‍