Two Major Obstacles for Consumer Packaged Goods (CPG) Shippers
CPG shippers have been facing significant obstacles in transportation over the past few years.  A recent study from the Boston Consulting Group and the Grocery Manufacturers Association shows that 80% of CPG shippers consider shipping their biggest business obstacle.  What are the main obstacles in transportation for CPG shippers?
Retailers' Demands – The strict demands of retailers, driven by consumer demands, make shipping difficult for CPG manufacturers.  In order to keep shelves stocked and customers happy, retailers allow for narrow delivery windows and implement harsh penalties for non-compliance.  Retailers are reducing their on-hand inventory which creates back up at the receiving dock and unrealistic lead times, which further perpetuate non-compliance from CPG shippers.
Capacity – Due to the truck driver shortage and rising freight costs, CPG shippers are having difficulty locking in capacity for regular shipments.  CPG shippers typically have unpredictable volume estimates due to small, frequent shipments that answer retailers' demands, and poor truck and driver utilization because of receiving dock backups at retailers' facilities.
As you can see, these two problems, while significant, are interrelated and can both be solved with similar solutions.  How can a CPG shipper solve these issues?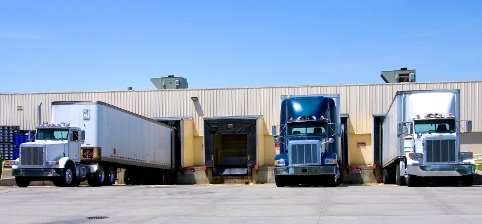 Transportation Solutions for CPG Shippers
A CPG manufacturer can find solutions for transportation problems through these four proven processes:
Company Collaboration – CPG shippers can collaborate with other companies to share warehouse or truck space to reduce shipping costs and cut down inventory carrying costs.  Also, by more effectively utilizing capacity, CPG shippers will be able to find capacity much easier in the first place.
Cross-Docking – For CPG shippers, cross-docking a portion of freight will ensure that it gets moved quickly from the factory to the retailer.  This will reduce the likelihood of non-compliance penalties and fees, and will also reduce the costs of handling and storing goods.
Ship Factory Direct – CPG shippers can incentivize retail customers to order products straight from the factory.  This way, CPG manufacturers can bypass their own distribution centers, saving money on transportation, warehouse storage and labor costs.  Retailers also see some of these savings through lower priced products and faster delivery times.
Outsourced Transportation – Outsourcing transportation management to a third party logistics (3PL) company is a popular solution amongst CPG shippers.  3PLs have an industry foothold that provides dependable capacity, at the lowest cost possible.  3PLs also implement continuous optimization initiatives to logistics processes, while a shipper takes the time they used to spend on freight management and focuses on core capabilities.
Continue Reading:
‍