Environmentally-friendly business processes are good for the bottom line and the ecosystem. While most companies have stepped up to keep customers educated on their green initiatives, many have yet to expand those efforts throughout the supply chain. Using a 3PL for supply chain management can be very beneficial to companies.
The state of sustainable transportation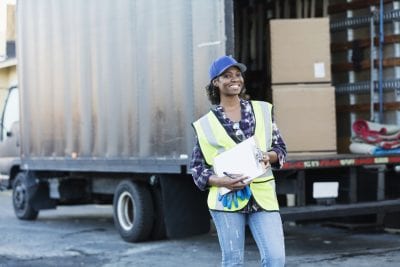 More than 3,700 companies participate in the Carbon Disclosure Project (CDP), an independent global system for companies to measure, disclose, manage and share climate and water information and sustainable initiatives. According to a recent CDP report, 43% of respondents say they have achieved year-on-year emissions reductions, but only 28% of their suppliers can say the same.
Why use 3PL for supply chain management sustainability?
Transportation and logistics companies now focus on sustainability more than ever. A gas-guzzling, emission-heavy industry like transportation is being held responsible for its environmental impact. 3PLs are responding to the need for sustainability by assisting companies in incorporating green initiatives into their everyday processes.
The U.S. Environmental Protection Agency (EPA) estimates that as much as 75% of all emissions come from logistics processes. Transportation plays a large role in this figure. When it comes to applying a green supply chain, benefits are seen not only in the environment but in operations too.
How does a 3PL help boost sustainability?
Through visibility derived from TMS data. With access to advanced reports, shippers are able to see where the most environmentally-harmful processes are located within the supply chain.
Here are 3 ways a 3PL uses visibility to drive sustainability in your supply chain:
Technology Integration
A 3PL integrates technology with emissions measurement and management processes to track emissions throughout all transportation functions. Shippers receive sustainability reports that include fuel efficiency and/or emission rates.
Data-Driven Performance Optimization
When a 3PL has access to your transportation data, they can produce better results in sustainability. For example, if a 3PL has mode and route data, they can consolidate shipments or employ intermodal services to improve overall efficiency while reducing emissions.
Maintaining Compliance
A 3PL monitors environmental performance to ensure improvement, but also to ensure compliance. Rules on emissions change based on locations and are becoming stricter. 3PL technology gives shippers insight on differing requirements and makes sure you're in compliance before a shipment leaves the warehouse.
BONUS TIP
3PLs are most effective at implementing sustainability initiatives when working on a long-term contract with a shipper. This is because long-term success can be prioritized over short-term profit.
More companies are evaluating their supply chain operations and costs and assessing alternative production options. Paul Polman, Unilever's CEO pointed out, "Sustainable growth will be the only acceptable model of growth in the future."
Learn more about our Outsourced Transportation Management services!
What to Read Next:
‍