Efficiency in the international cargo transportation network is a critical factor for the health of the global economy. It's no secret that U.S. ports lack in efficiency, capacity, and technology compared to Asian and European ports, especially since the arrival of megaships.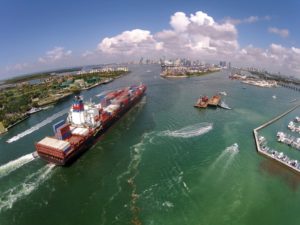 Megaships, the largest of which can hold up to 20,000 TEUs, have created congestion at U.S. ports, and they've revealed deeper problems with American container transportation infrastructure.
What's Wrong with U.S. Ports?
There are many challenges that create congestion and inefficiency at U.S. ports, but major problems include:
Labor productivity issues
Unexpected surges in cargo volumes
Disruptions in surface transportation
Unreliable schedules of rail and over-the-road (OTR) carriers loading/unloading containers
Shortages of equipment
Vessel operators' schedule and reliability
Shortage of container storage space
As Asian countries increase their export volume as well as the efficiency of their ports, they are more and more likely to send megaships to the U.S. These megaships will continue to exacerbate the problems mentioned above.
The entire container shipping industry operates on slim margins. For ocean carriers, fuel is the main operating cost. Between 1998 and 2013, the cost of fuel rose 790% while the cost of container shipping dropped 20%. Ocean carriers face extreme pressure from consumers to keep shipping costs low, and using megaships is one of the only ways to avoid price increases.
Are there Efficiency Opportunities?
With that in mind, megaships are a trend that won't go away. In fact, they will only get bigger. U.S. ports are not prepared to handle this kind of volume of containers at one time. But, with some operational changes, these megaships present big opportunities for efficiency at U.S. ports and beyond.
There are 3 main ways megaships enable efficiency at U.S. ports:
Sorting and Storage
With larger vessels, containers must be handled in high concentrated volumes, as opposed to a steady flow of containers from several small vessels. Typically, this causes problems at ports, but it is an opportunity for efficiency too. When freight is all grouped together it is easier to sort and store. For example, for export goods, the complexity of matching export cargo with the correct ship is reduced, saving loading time and improving operational efficiency.
Operational Productivity
The speed and size of the workforce required to load, unload and store containers is a huge part of port efficiency. At U.S. ports, megaships allow for higher crane density and productivity – crane operators spend much less time moving between vessels to load/unload freight and therefore increase the container volume capacity of a single port. Also, with fewer vessels, which create a higher density of cranes, less supervision and buffer operational capacity is needed, saving on labor costs.
Surface Transportation
Megaships create higher concentrations of cargo volume, which allows for collaboration and synergies in surface transportation. Ocean carriers regularly participate in vessel-sharing in order to reap the full benefits of megaships. With their combined shipment information, they can collaborate to improve shipment speed, reduce overall costs and also improve port efficiency. For example, cargo that is sharing a vessel can also share rail space after unloading at the port, allowing cargo containers to be moved more quickly and efficiently through the port. This same concept can extend to freight that is moving inbound to the port – containers can be consolidated into one shipment for easier sorting and storage.
Megaships represent a major problem for U.S. ports. Current port operations are not prepared for the high concentration of freight volume that larger vessels create. However, with some planning and a few operational tweaks, megaships also present an opportunity to improve efficiency.
Read more:
PLS Logistics has decades of experience finding hidden efficiencies in all types of supply chains. To find opportunities in your transportation, let us do a free assessment of your logistics functions to show you where you can save money.

‍