With increasing competition in the retail market, it has become very challenging for retailers to efficiently manage their supply chains. Essentially, a smooth retail supply chain strategy is a fundamental part of a positive customer experience, and retail companies strive to reach the golden standard of order fulfillment and fast delivery.
The thing is, most of the retail companies are not experts at logistics and supply chain management, and they don't have dedicated departments for this branch of business. So, to make their online and omnichannel strategy work, retailers turn to 3PL's for help. According to Pinsent Masons study, 88% of retail companies that outsourced any type of operation to a 3PL were satisfied with the results.
When is the right time to use a 3PL for a retail supply chain?
Outsourcing logistics to a 3PL is a great step that can take a lot of responsibility off of your plate and let you focus on the main business goals. Apart from time and money savings, third-party logistics providers can offer many substantial benefits to your retail business.
Cost-efficiency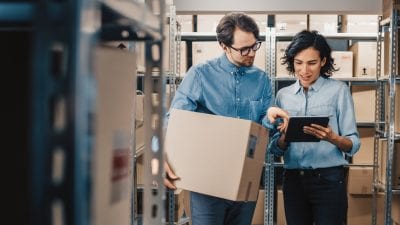 Many companies assume that outsourcing to a third party by default means spending more on service fees. However, all the efforts of a 3PL will eventually cost you less than an in-house supply chain management. Retail companies don't have the negotiating power of a 3PL. Experienced providers work with thousands of carriers on special terms, and can offer you a much lower shipping price than the market average.
Additionally, a 3PL is a one-stop-shop for most of your supply chain needs. That means you don't have to invest in warehousing, technology, and a logistics team. Ultimately, it's cheaper to delegate logistics to the industry experts instead of learning every process from scratch and experiment on your own business.
Streamlined processes
Retailers have numerous distribution channels. Managing outbound shipments and consistently storing all of the data can be extremely challenging. 3PL's take this burden away. Good logistics providers have special technology, like a transportation management system, where you can navigate any information on a certain shipment. In a dynamic world of retail, the ability to streamline transportation processes and track shipments is critical for a smooth business flow.
Flexibility
Another reason to outsource to a 3PL is their ability to adjust to your business needs. In most cases, 3PL's provide an extremely wide span of services. You can outsource a single link, or an entire supply chain, and still be confident about the results. From transportation to inventory and returns management, you can always add up or take off operations from an outsourcing list.
Final thoughts
At the end of the day, customer demands set the bar of performance level for retail companies. Those who strive to succeed in the competition constantly look for ways to improve their business flow and efficiency. Eventually, more and more retailers turn to 3PL's to take care of their supply chains and get excellent results while focusing on their core competence.
PLS Solutions for Retail Logistics
PLS can become a reliable and dedicated logistics partner for your business. Learn more about our Retail Logistics Services!
‍